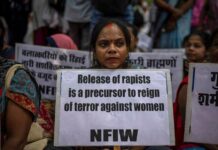 They were raped, then killed, and finally hung up to make the incident look like suicide. After the outrageous act on two girls, there is now violent protest.
New Delhi – A brutal crime against two sisters has caused horror in northern India. The 15 and 17-year-old teenagers were raped, killed and hung from a tree. The result was an autopsy of the bodies, the police said.
Six alleged perpetrators were arrested in the most populous state of Uttar Pradesh. Victims and perpetrators came from the same village, reported "Indian Express".
Local residents and the victims' families organized a protest after the crime, the Hindustan Times reported. According to the ANI news agency, the father of the victims demanded the death penalty for the perpetrators. The state's Deputy Prime Minister, Brajesh Pathak, promised tough action.
Two of the men took the women on motorcycles to a sugar cane field on Wednesday, raped them and killed them. Two other men helped hang the bodies from the tree to make the incident look like a suicide.
The victims were said to be Dalits (formerly known as untouchables). So they were at the bottom of the Hindu hierarchy. Although Dalits are protected by the Indian constitution, they often still experience discrimination today. dpa