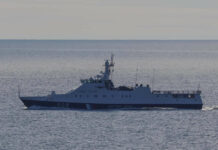 Putin's superyacht was still in Hamburg waters in February. The ship has now made it to Estonia.
MOSCOW – Vladimir Putin's superyacht, worth almost 114 million euros, has recently surfaced off the coast of Estonia. According to Forbes, the ship now has a new name: "Kocatka". That means "killer whale" in Russian. The photographer Carl Groll photographed the yacht on September 25th.
The photo shows Putin's "killer whale" crossing the Baltic Sea en route to Putin's hometown of St. Petersburg. On February 7, the ship could still be seen at the port of Hamburg. According to media reports, the ship was then extensively overhauled by Blohm+Voss – the same company that originally built the ship. So, despite sanctions against the Kremlin, the yacht has obviously not yet fallen into the hands of the EU. Because of the recent sham referendums, however, the European alliance of states has reacted again.
Putin's superyacht "Killer Whale": EU launches new sanctions
The EU countries have now launched an eighth package of sanctions against Russia. As several diplomats from the German Press Agency in Brussels confirmed, on Wednesday (October 5) the permanent representatives of the member states approved, among other things, the legal requirements for a price cap for oil imports from Russia supported by the G7 countries. The agreement still has to be confirmed in writing by the capitals of the member states.
Part of the basic agreement on the new sanctions include various export bans that affect certain key technologies for aviation. In addition, there should continue to be an import ban for certain steel from Russia. In the future, EU citizens will also be banned from holding seats on the executive bodies of Russian state-owned companies.
EU sanctions to hit Russia
The federal government in particular had campaigned for this after ex-Chancellor Gerhard Schröder had been chairman of the supervisory board of the Russian oil company Rosneft for a long time. In addition, there are punitive measures against people who helped to hold sham referendums in the areas of Ukraine that have now been annexed by Russia. They are subject to entry bans and asset freezes in order to have a deterrent effect. (mse with/dpa)