Great Britain and numerous royal fans around the world are mourning: Queen Elizabeth II is dead. Where and when will the British monarch's funeral take place?
LONDON – Queen Elizabeth II passed away on Thursday 8 September at the age of 96. Queen Elizabeth II kept the promise made by the departed Queen to serve her Commonwealth for life. No other current Majesty on the planet has held office as long as the now-dead Elizabeth II.
The question that many people around the world are now asking themselves: where is Queen Elizabeth II buried and when will the funeral take place? We explain the answers and reveal how the funeral service takes place.
When and where is Queen Elizabeth II buried?
The late monarch of the British royal family will be buried on Monday 19 September. His resting place is the family grave in St George's Chapel at Windsor Castle, west of London. There are also the remains of her father King George VI, her husband Prince Philip (aged 99), who died in 2021, her mother Queen Mum (101) and her sister Princess Margaret (71).
A few months ago, plans were made public that include the procedure for the death of Queen Elizabeth II:
Queen Elizabeth II died: rehearsals for the big farewell ceremony – coffin laid out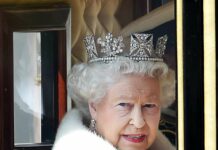 On the second day after her death – September 10, 2022 – the coffin with the deceased Queen Elizabeth II (to the news ticker) is said to be brought to London's Buckingham Palace. The preparations for the extensive mourning ceremony are already beginning, and will be intensified on the fourth day (Monday, September 12). Allegedly, there has been a plan for this complex procedure ("Operation London Bridge") since the 1960s:
The rehearsals that begin then serve to ensure that the funeral service for Great Britain's late Queen runs as smoothly as possible. This includes the procession and the transport of the coffin to the church. This will be taken to Westminster Abbey during dress rehearsals, where the funeral service will take place. The mortal remains of the monarch, who has been in office since 1952, are also laid out there. According to the British media, the coffin with Queen Elizabeth II is then accessible 23 hours a day. An enormous rush of visitors is expected, several hundred thousand people from England and numerous tourists are reportedly expected (press reviews on the death of the "greatest queen of all time").
The monarch, who reigned over the United Kingdom for 70 years, will receive a state funeral at Westminster Abbey in London. (PF)