The Queen's funeral breaks with a tradition that is over 250 years old. The Queen herself wanted it that way.
LONDON – The death of Queen Elizabeth II deeply moved the world. Not only Great Britain is in deep mourning. The state funeral service will be held at London's Westminster Abbey on September 19. The funeral will take place afterwards.
But with the announcement of the plans for the Queen's funeral, it is now also clear: The funeral of Queen Elizabeth II will break with centuries-old traditions.
Funeral of Queen Elizabeth II: Why the funeral breaks with an age-old tradition
The reason: In the past, royal funerals were held in St. George's Chapel in Windsor. Incidentally, every coronation of every English monarch has taken place here since 1066. But this traditional site was not chosen for the Queen's funeral ceremony. Instead, this should take place in Westminster Abbey. According to numerous media reports, such as ABC News , this is the first burial of a monarch at this site since that of King George II in 1760. An interesting factor is that the Queen herself is said to have arranged her funeral this way.
Westminster Abbey
opened
1269
location
Dean's Yard in London
Floor space
2,972 square feet
architectural style
Gothic architecture
But why is this tradition being broken at the Queen's funeral ceremony? The British tabloid Daily Mirror speculates that a decision was made to choose a larger and more accessible location for the Queen's funeral. Another interesting fact: Elizabeth I's funeral ceremony also took place in Westminster Abbey.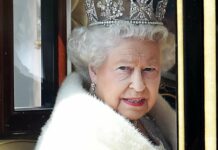 However, the Queen's funeral will likely only be attended by invited guests. Around 2,000 of them are expected, including US President Joe Biden, according to the AFP news agency. "I don't know the details yet, but I will travel there," said Biden. (slo)