The Queen will be buried on Monday. Before that, there is a state dinner for the royal family. Harry and Meghan are not there – they are even said to have been unloaded.
The Queen is dead : Queen Elizabeth II will be buried on Monday
The Queen's youngest son: Now Prince Edward is also in touch
Confusion about the state dinner: Meghan and Harry are said to have been unloaded again
This news ticker about the Queen's death and the funeral ceremonies is continuously updated.
Update from September 18, 8:15 a.m .: Leaders from all over the world are gathering in London this weekend to say goodbye to Britain's Queen Elizabeth II. Among the high-ranking visitors who paid their last respects to the monarch at her coffin in Westminister Hall proven, included Canadian Prime Minister Justin Trudeau, Australian Prime Minister Antony Albanese and New Zealand Prime Minister Jacinda Ardern. The Queen's state funeral is on Monday. US President Joe Biden also arrived in London on Saturday evening. He is expected to visit Westminster Hall with the monarch's coffin on Sunday. And Japan's Emperor Naruhito and Empress Masako also arrived in London on Saturday.
On Sunday evening, the new King Charles III. received dozens of foreign officials and dignitaries at Buckingham Palace. On Monday, the funeral service will take place in Westminster Abbey with more than 2,000 invited guests. Germany will be represented by Federal President Frank-Walter Steinmeier.
Hundreds of thousands of citizens have been parading past the coffin of the Queen, who died at the age of 96, since Wednesday evening. The mourners accepted gigantic waiting times of at times more than 24 hours.
According to the London Ambulance Service, 435 people waiting had to receive medical treatment by Saturday – often with head injuries as they passed out and fell. Westminster Hall with the Queen's coffin will remain open to the public until Monday morning at 06:30 a.m. local time (07:30 a.m. CEST).
Update from September 18, 00:04 : US President Joe Biden has arrived in Great Britain, where he wants to pay his last respects to the late Queen Elizabeth II. The US presidential plane Air Force One landed at London Stansted Airport. Biden is expected to visit Westminister Hall on Sunday, where the Queen's coffin is laid out. He is also expected to inaugurate the new King Charles III on Sunday. meets.
Queen's funeral: Charles probably invites Harry and Meghan from the state dinner
Update from September 17, 8:12 p.m .: Confusion about the state dinner in honor of the Queen on Sunday! The royal family reunites at Buckingham Palace on the evening before the monarch's funeral. Not present: Harry and Meghan (see initial message below), as the event is officially only for "working royals". Allegedly, the two were not invited. But now the Daily Mail is reporting on new, explosive developments.
Accordingly, Harry and Meghan are very well from King Charles III. invited to the state dinner. However, the two are said to have been unloaded later by the king. Buckingham Palace officials are said to have insisted that only "working royals" be invited. In the English media, a communication problem can be read as the reason.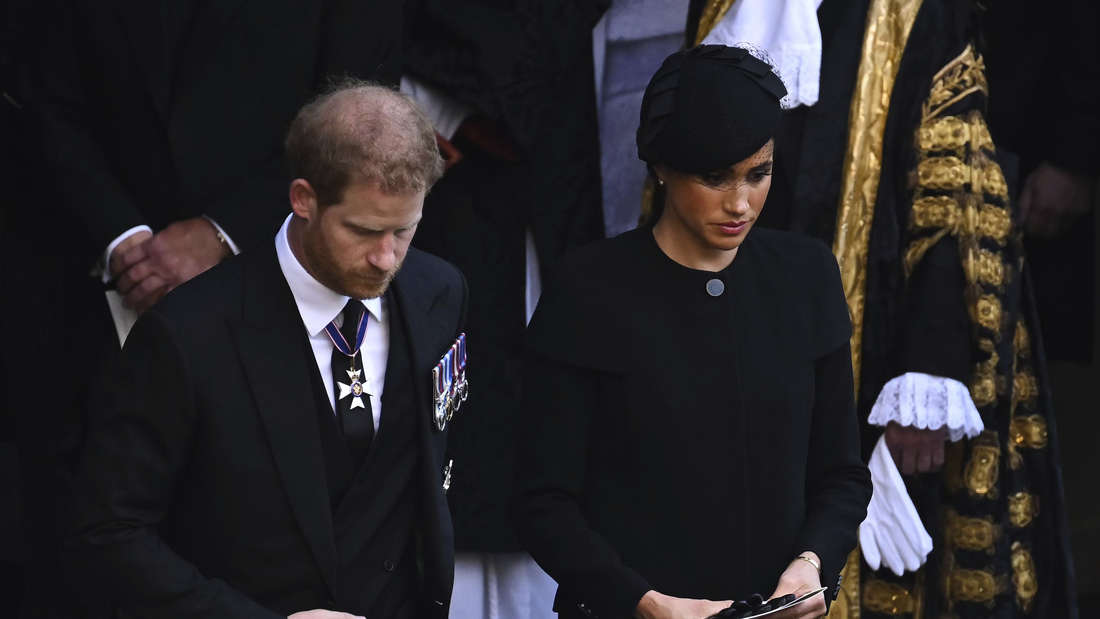 Before Queen Elizabeth's funeral: state dinner probably without Meghan and Harry
First report: London – The whole of Great Britain mourns the death of Queen Elizabeth II. After the death of the monarch, London is now heading for what is probably the biggest media event of the year: the funeral of the long-time regent. In Germany, too, the funeral ceremonies will be broadcast on a number of TV stations on Monday. All information about the funeral of the Queen can be found here.
Queen Elizabeth is dead: Now her youngest son Prince Edward speaks up
Eight days after the death of Queen Elizabeth II, Prince Edward is now speaking in detail for the first time. In a statement released on the British royals' website, they said: "We have been overwhelmed by the emotions that have flooded us and the number of people who have made every effort to express their love, admiration and theirs To express respect for such a special and unique person who was always there for us".
In a short video that the royal family tweeted to accompany his words, the Earl of Wessex and his wife Sophie, Countess of Wessex light candles for his late mother.
Queen's funeral on Monday: Prince Harry receives uniform exemptions – but is barred from attending an event
Of course, the time of mourning should be particularly difficult for her family. King Charles III already has to take care of a number of obligatory events in the middle of the national mourning period. However, the new regent was not completely free of scandals in his first day as monarch. Among other things, a ballpoint pen caused a stir about King Charles. Prince Harry and his wife Meghan, who are of course also in London on this sad occasion, are also being watched particularly closely these days.
There has been much speculation about the mood between Harry and his brother William. The relationship between the two has been strained since Harry's royal retirement. For Queen Elizabeth, however, the two are said to have put their differences aside. Nevertheless, Harry still seems to be a bit on the sidelines in the circle of the royals. Among other things, it was first said that he was not allowed to appear in uniform at the funeral on Monday because he was no longer an active member of the royal family. For him and Prince Andrew, who is also publicly criticized, a uniform exception should now be made. Meanwhile, there are no exceptions at another special event in the run-up to the funeral.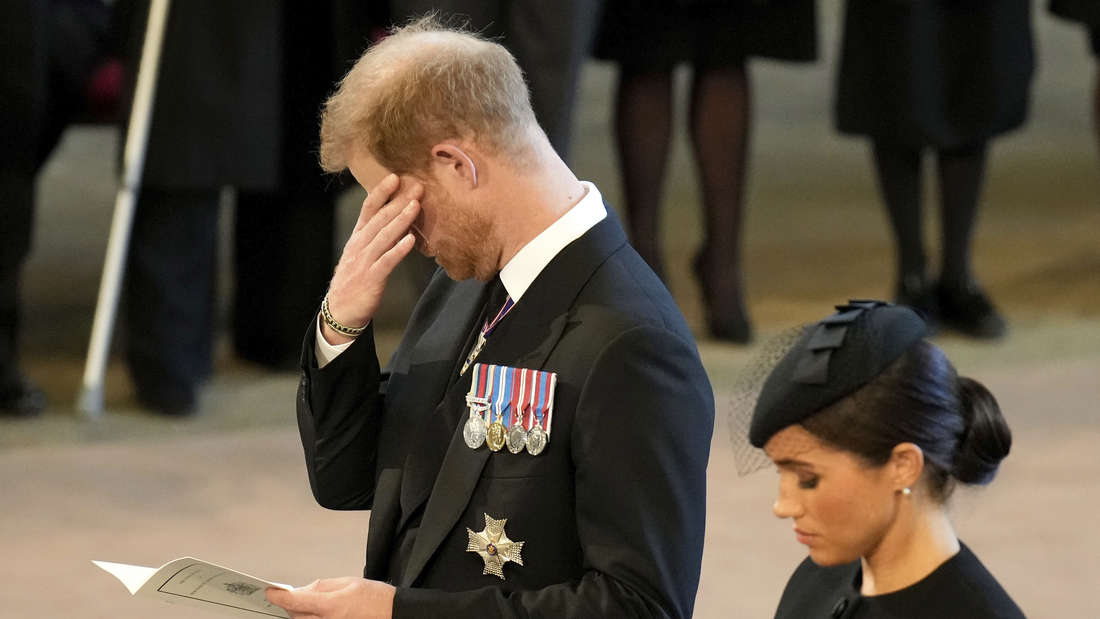 King Charles III hosts state dinner in honor of the Queen – Meghan and Harry are left out
As the royal family has now announced, King Charles will host a state dinner on Sunday evening. However, Harry and Meghan will be absent from the event at Buckingham Palace, the palace said in a statement. The reason: The dinner is only reserved for "working royals". This officially no longer includes Meghan and Harry since "Megxit" 2020. Incidentally, the same applies to Prince Andrew, who was released from his royal titles after his involvement in an abuse scandal.
So the next setback for Harry and Meghan in the midst of mourning the loss of Harry's beloved grandmother – and not the first reason to cause friction between the couple and the new king. Allegedly, Harry and Meghan are angry because Charles does not want to give their children, Archie and Lilibet, royal titles. Meanwhile, it should already be clear which two personal items the Queen will take to the grave. (han)