The weekend should bring rain. But now little is left of the original forecasts. In Germany it remains dry.
Frankfurt – It's not just the heat. Rather: It is above all the drought that is causing problems for the plants and, as a result, also for the people this summer. In many places in Germany, the earth is thrown up dust-dry by agricultural machines. What little water comes down can't soften the crusted surface and at most washes a little away from the topsoil. And it remains, the weather in Germany – it still doesn't really want to rain.
We were just hoping for this weekend. "It's really intense. Much of the announced rain has disappeared from the weather models," says qualified meteorologist Dominik Jung, managing director of the weather service Q.met (www.qmet.de), to the weather portal wetter.net . This is reported by Merkur.de.
Weather in Germany: The forecast by qualified meteorologist Dominik Jung
The expert had not expected the necessary widespread rain anyway. But now even less precipitation is expected than initially calculated in the forecasts. The regions in western Germany are particularly affected. In North Rhine-Westphalia, Saarland, Hesse and Rhineland-Palatinate there should only be a few liters of rain. "In isolated cases, thunderstorms can bring a little more, but otherwise most of the rain has disappeared from the calculations. The focus is now only on the edge of the Alps, the south-east of Bavaria and parts of the east of Germany around Saxony, Berlin, Brandenburg and Mecklenburg-Western Pomerania," says Jung. The maximum values are on Thursday in the east 27 to 34 degrees, otherwise 22 to 29 degrees.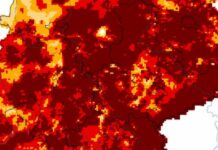 "We are literally stuck in constant warmth/heat and drought mode. A new high is coming next week with plenty of sunshine and dry weather. In addition, the maximum values are already increasing to 30 degrees and above, at the top to 35 or 36 degrees. A lasting cooling is not in sight, nor is there a lot of land rain and that could remain so until the beginning of September," says weather expert Jung.
| weekday | temperatures | forecast |
| --- | --- | --- |
| Thursday | 25 to 34 degrees | partly dense clouds and little sun, isolated showers and thunderstorms from the southwest |
| Friday | 19 to 31 degrees | Mix of sun and clouds, very wet in the east and in the Alps, otherwise lots of sun and partly hot again |
| Saturday | 24 to 29 degrees | often friendly with sunshine, hardly any thunderstorms or showers |
| Sunday | 24 to 29 degrees | lots of sunshine and dry |
| Monday | 23 to 30 degrees | often dry and friendly |
| Tuesday | 25 to 31 degrees | mostly friendly and dry |
| Wednesday | 25 to 33 degrees | lots of sunshine, dry |
| Thursday | 27 to 36 degrees | very sunny and dry |
| Friday | 26 to 34 gad | mostly lots of sun and a few clouds |
Drought in Germany: Plant-available water in the soil is largely close to zero
The drought monitor from the Helmhotz Center for Environmental Research (UFZ) also delivers frightening results. Large parts of Germany are marked in dark red as "extraordinary drought" (maximum level). The few remaining areas are, at best, "unusually dry". The water available for plants in the soil is also approaching zero in almost all of Germany – and thus the wilting point.
Jung also sees it this way: "Hardly any of the heavy rain arrives. At times, up to 100 liters of rain were calculated around Saarland, Rhineland-Palatinate and Hesse. Hardly anything is left of it. The focus of rain is now in the east and on the Alps. There, heavy rain can cause flooding or narrowly defined flash floods. The rain will do little against the great drought. The ground is so dry and hard that it can hardly absorb any water and after that it's often dry, sunny and very warm again from the weekend. The summer of 2022 is still on record course."
Summer on record course: It could be the driest since 1881
The summer of 2022 could be the driest summer since 1881. This has an impact on agriculture and crops. But also on the German forests. The UFZ explains on its website that it is above all the pests that have an easy time of it in this massive drought. The consequences of the forest dieback are not yet sufficiently foreseeable. (Naima Wolfsperger)