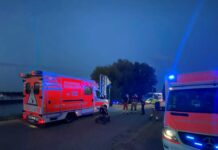 A 37-year-old plays with his four small children in the Rhine during a bathing trip. A dangerous undertow develops when a tanker drops anchor. A dramatic rescue operation begins.
Wesseling – A father's bathing trip with his four children on the Rhine near Wesseling south of Cologne almost ended fatally.
When the four children aged two, six, eight and nine and their 37-year-old father were playing in the shallow water on a popular local beach on Tuesday evening, a tanker passing and then anchoring probably developed such a suction that the whole Family in great need, reported Wesseling's fire chief André Bach on Wednesday. The "Kölnische Rundschau" also reported.
"It was extremely close and could have ended badly. Thank God everyone is better, but they are still in the hospital," Bach told the German Press Agency. He happened to be nearby and was there quickly. Many thanks go to the first responders who were on the beach and intervened immediately, Bach explained.
As the city announced, all five people were pulled under water and pulled out of the Rhine by passers-by. According to the city, the father dived after his two-year-old child and then got sucked into it himself. When the rescue workers arrived, the 37-year-old was initially unconscious. According to Bach, however, no one had to be resuscitated.
All well again
Finally, after initial treatment by emergency doctors and rescue workers, all five rescued were brought to the University Hospital in Bonn and are now doing well. The mother of the family, who was not in the water, received pastoral care from the rescue workers and was taken to a clinic. About 20 firefighters were on site. Bach: "The assignment was very stressful for everyone, even if it ended well."
Praise for the first responders
Bach expressly praised the first responders: "They provided important first aid and the work on the scene went hand in hand with the fire brigade and rescue service." Passers-by lined the scene to film cell phone videos. I have to say it disgusts me," Bach said.
In view of the numerous emergencies in water bodies in the past few weeks, the fire department warned against swimming or bathing in the Rhine. The river can be life-threatening because of the currents and shipping traffic. The current low water doesn't change that. "This evening shows again: The Rhine is a traffic route and not a place for bathing. The bathing ban is not in vain and must be observed urgently," warned the city councilor, Gunnar Ohrndorf, according to the announcement. dpa