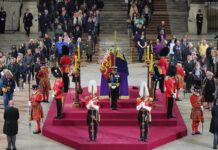 Queen Elizabeth II will be buried on Monday. Guests from all over the world are expected at the state funeral. Read here which nobles come from Baden-Württemberg:
After her death on September 8th, Queen Elizabeth II will finally be laid to rest at St. George's Chapel on Monday (September 19th). Thousands of people are expected to attend the 96-year-old's funeral. Invited guests are heads of state like Joe Biden or Frank-Walter Steinmeier as well as royals from all over the world. In addition to kings and an emperor, there are also nobles from Baden-Württemberg.
HEIDELBERG24 reveals which royals from Baden-Württemberg will come to the funeral of Queen Elizabeth II.
For four days, the Queen's coffin has been laid out in public so that her supporters can say goodbye. This deadline ends on Monday at 07:30. Then the ceremonial act of state begins at her funeral. (ie)