On October 30, 2022, Brazil will be elected between President Bolsonaro and his left-wing opponent Lula da Silva.
The people of Brazil face a landmark choice.
Will Lula da Silva return to power? Or will Jair Bolsonaro remain in office?
On Sunday (October 30th) the citizens will elect the new President in a run-off election.
Brasilia – Brazil is facing a future-oriented decision: On October 30, 2022, the new president of the largest country in South America will be elected. In the runoff, incumbent Jair Bolsonaro and his challenger Lula da Silva face each other. The two opponents split society, in Brazil there is a poisoned atmosphere.
In the run-up to the second ballot, Brazil's actual problems were no longer at stake. Instead of the great famine in the country, the record deforestation in the Amazon or the strong social inequality, mutual accusations and sometimes irrelevant escapades were in the spotlight of the election campaign.
Runoff election in Brazil: An election campaign without debate
It's a dirty ground on which the exchange of blows between Lula da Silva and Bolsonaro is played out. An example of this recently circulated in the Brazilian media, when a video shared by Bolsonaro's sons and other politicians showed a self-proclaimed satanist professing his allegiance to Brazil's left-leaning ex-president. Lula took a stand and denied any allegations of devil worship.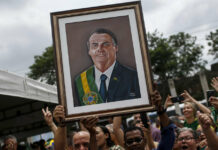 But the counterattack was not long in coming. Lula's campaign team had a report produced to reveal that opponent Bolsonaro was allegedly engaged in cannibalism. The incumbent President's visit to an indigenous community in Brazil in 2016, as well as a few snippets of interviews taken out of context, would attest to this.
Bolsonaro was quick to shrug off the theory surrounding his lust for human flesh, but not Lula's allegations of numerous failings and scandals during his reign. Bolsonaro fired back and brought back the allegations of corruption against Lula and his Labor Party PT. There was no room for a serious debate about Brazil's future in the mudslinging between the two presidential candidates.
Runoff election in Brazil: race between Bolsonaro and Lula closer than expected
Contrary to all forecasts, a few days before the runoff election in Brazil, both candidates are on an equal footing. According to polls obtained by the Journal for International Politics and Society (IPG) , around 49 percent are currently on Lula da Silva's side. With Bolsonaro it would be 45 percent. This also reflects the result of the first round of voting on October 2nd. But where does this change in mood within the country come from?
Even before the first ballot, Bolsonaro was sometimes seen far behind the 40 percent. There was even talk of an outright majority for Lula. But in the meantime, the right-wing extremist president has got tailwind. Bolsonaro knows how to strengthen his relationships with the business elite, the Protestant Church, the military and the police through skilful patronage politics. Bolsonaro has also collected bonus points from Lula's greatest ally, the low-income class, through calculated aid payments in recent weeks.
Runoff election in Brazil: Who will win the October 30 election?
So the election will be closer than expected. According to figures from the IPG , 46 percent of the Brazilian population said they would not vote for Lula under any circumstances. Nevertheless, the left-leaning challenger is ahead in the forecasts for the runoff in Brazil. If Bolsonaro wins the election, the country expects a totalitarian agenda. Should Lula win, Bolsonaro might not recognize the result. With his constant criticism of the electronic voting system, the incumbent may already be preparing to challenge the result. (aa)