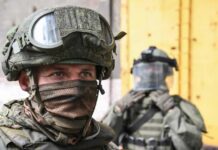 Vitaly Gura was considered dead in the Ukraine war. Now it turns out that he is alive. Another officer also went into hiding.
Moscow – It was decided to fake the shooting of Vitaly Gura, deputy head of the Nova Kakhovska municipality. The man then went into hiding. Allegedly, the Russian secret service FSB was able to prevent an assassination attempt by its Ukrainian counterpart SBU. Gura admitted this staging on Russian state television.
"At the beginning of August, the security organs came to me and said that an attack on me was being prepared," Gura said. Accordingly, another official of the military administration deployed by Russia in the Cherson region went into hiding in this way.
Ukraine war: Russia allegedly faked murder
After the start of the Russian war of aggression against Ukraine, resistance against the occupiers, some of which was fierce, had formed in the conquered areas in the past few months. The Russian and Ukrainian media repeatedly reported attacks against representatives of the occupying power.
The Kremlin, meanwhile, wants to continue the war against Kyiv despite the recent failures in eastern Ukraine. "The special military operation will continue," Kremlin spokesman Dmitry Peskov said on Monday, according to the Interfax news agency. "It will continue until the goals set initially are achieved," he added.
Ukraine war: Putin follows military developments
Peskov was only evasive when asked by journalists whether Russia's military leadership still enjoyed the trust of Kremlin chief Vladimir Putin. When asked how Putin reacted to the news that his own troops were withdrawing from the Kharkiv region, Peskov simply said that Russia's president would be kept informed of all military developments.
Moscow's war goals include the complete conquest of the eastern Ukrainian regions of Luhansk and Donetsk. Last weekend, however, Russia's army suffered one of its heaviest defeats since the invasion of the neighboring country more than six months ago.
Ukraine War: Russia withdraws troops
Under pressure from Ukrainian counter-offensives, troops were largely withdrawn from the Kharkiv region to the east. Officially, Moscow justified the withdrawal with a strategic "regrouping" of its own units. Putin is said to have given his army until September 15 to make land gains up to the administrative borders of the Donetsk region for Russia. (mse/dpa)