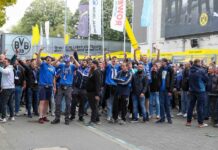 Before the derby between BVB and FC Schalke 04 there was an unpleasant incident. An S04 fan broke the nasal bone of a boy (12). Find out more here:
Dortmund – Before the Bundesliga match between BVB and FC Schalke 04, there was an ugly scene when the S04 fans arrived. As RUHR24 reports, a Schalke fan broke the nose of a boy (12).
The incident happened when the 20-year-old fan threw a glass bottle out of the window of a stationary train at a train station. The boy was then taken to the hospital. All in all, the Dortmund police drew a positive conclusion when looking at what was happening around the fans and the BVB stadium.