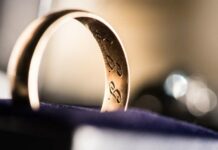 Does it always have to be the sapphire or the gold chain? If you want to pay attention to sustainability when buying jewelry, you have alternatives – even high-quality ones.
Düsseldorf – In order to be as sustainable as possible when looking for new gold jewelry, it is worth taking a look at your own jewelry box. Is there something else that is no longer worn? Such old gold can be melted down to make new pieces of jewelry, says the environmental expert at the NRW consumer advice center, Philip Heldt. "It's also more individual."
The recycled gold can sometimes have a special history and symbolic power – for example in the manufacture of wedding rings, when old gold from both families merges into something new, says Heldt. According to him, there are even jewelry designers who have specialized in so-called upcycling – i.e. the conversion of supposed waste products into new usable things.
Instead of relying on gold, one could, from the expert's point of view, also fall back on materials such as wood and stainless steel, which would be obtained in a much more resource-saving manner. Likewise, when it comes to gemstones, customers could choose less exotic ones from distant countries. "Stones are mined in Germany, too," says Heldt. dpa