In the course of a raid on Trump's Florida estate, the FBI seized several classified documents. These are now to be evaluated by US secret services.
WASHINGTON – In early August, the FBI raided Donald Trump's Florida home and confiscated several documents classified as confidential and classified. According to media reports, these documents are now to be evaluated by the US secret services.
As the US magazine Politico reported on Saturday (August 27), citing a letter from secret service coordinator Avril Haines to high-ranking employees, it should be clarified whether the storage of secret documents in Trump's Mar-a-Lago villa poses any risks for the national security arose. Haines is part of Joe Biden's administration.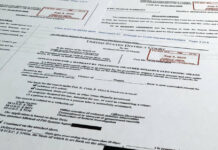 Donald Trump: Secret services are checking whether unauthorized persons had access to the documents
"The Department of Justice and the Office of the US Intelligence Coordinator are working together to facilitate a classification review of relevant materials, including those recovered in the search," Haines said, according to the magazine. The secret services can also check whether unauthorized persons may have had access to the sometimes top-secret documents. Should this be the case, criminal penalties may follow.
On Friday (August 27), the US Department of Justice published a partially redacted version of the document on the basis of which the US federal police had searched the home of ex-President Donald Trump. It said Trump had already returned numerous confidential, classified and top secret documents to the National Archives.
Former President Donald Trump is said to have previously returned some documents to the National Archives
There was therefore reason to believe that there were other documents classified as secret on the property. Since Trump previously kept the returned paperwork at his private estate, he may have broken the law, which now needs to be investigated.
Donald Trump himself is outraged by the investigations against him. On Truth Social, an online service he co-founded, he spoke of a "witch hunt". He accused the government of his Democratic successor, Biden, of using the FBI for political ends. He called for a neutral examiner. Until then, "the US government should no longer participate in the examination of the documents," according to a motion that his lawyers submitted to the court. (tt)