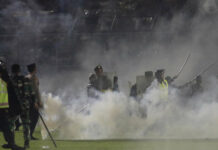 Serious riots break out after a soccer game in Indonesia. Thousands of people stormed the square.
Malang – At least 129 people have died in serious riots following a soccer game in the Indonesian province of East Java. Police used tear gas to disperse the rampaging fans, provincial police chief Nico Afinta said at an impromptu press conference on Sunday. 34 people died on the field of Kanjuruhan Stadium, all others in hospitals, Afinta said, according to radio station Elshinta and station tvOne. He initially gave no information about the cause of the riots.
The riots broke out after the first division game between Arema FC and Persebaya FC. After the 3-2 defeat in Malang, thousands of spectators stormed the pitch. Photos published on the tvOne website show, among other things, a completely destroyed car in the stadium. Further pictures show the storming of the square and clouds of smoke on the square and in the grandstands.
Serious riots after soccer game in Indonesia: 180 injured in clinics
Two members of the police were also among the dead, said provincial police chief Afinta. Most people died from lack of oxygen. According to him, around 180 people are still in clinics. The riots also damaged 13 vehicles, including ten police vehicles.
The Arema and Persebaya football clubs expressed their condolences to the victims and their families. "Arema FC extends its deepest condolences for the disaster in Kanjuruhan. Arema FC's management is also responsible for dealing with the casualties, both dead and injured," said club boss Abdul Haris. The club will set up a crisis center and a victim information center. "To the families of the victims, the management of Arema FC sincerely apologizes and stands ready to provide compensation. Management stands ready to accept proposals for how to deal with the disaster so that many will be saved," Haris said.
Riots after soccer game in Indonesia: Game operations are suspended for a week
The Indonesian Football Association (PSSI) suspended play in the first division for a week. Arema were banned from playing home games for the remainder of the season. In addition, the association had set up an investigation team that was supposed to start work on Sunday. "PSSI regrets the actions of Aremania supporters at Kanjuruhan Stadium. We are sorry and apologize to the families of the victims and to everyone involved in the incident," said Mochamad Iriawan, President of the Association. The police will be assisted in the investigation. (dpa)