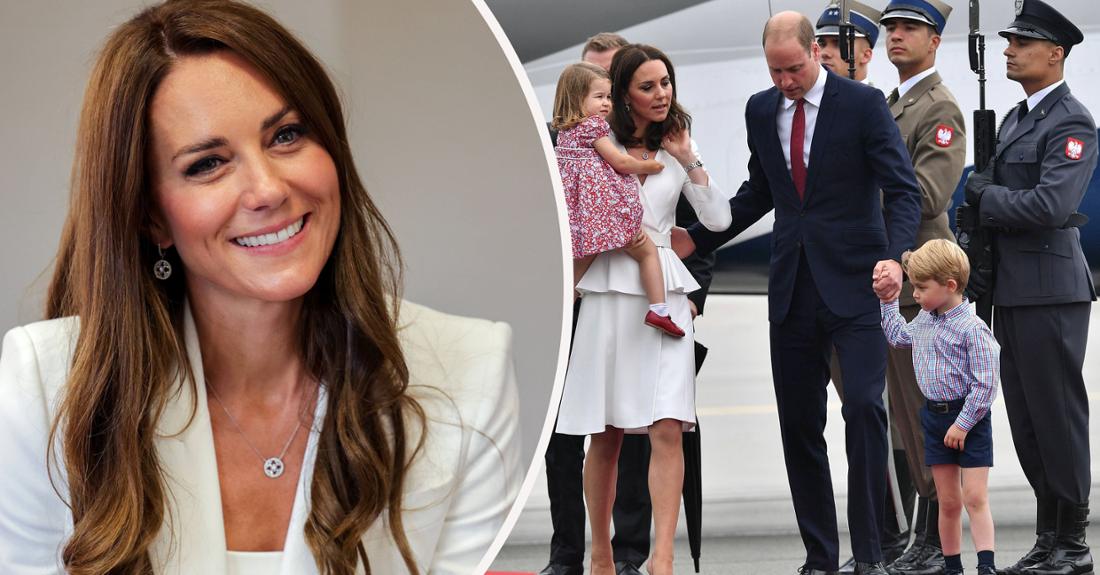 Kate Middleton causes an uproar among guests on a scheduled flight to Scotland. The Duchess of Cambridge was traveling with Princess Charlotte and Prince Louis and her presence caused a stir among those on the flight. A TikTok user captured the scene.
London – Kate Middleton (40) caused big eyes among the passengers on an economy flight from England to Scotland. The wife of Prince Williams (40) joined the public flight cabin with nanny Maria Teresa Turrion Borrallo and security personnel. A fellow passenger caught a footage of the Duchess of Cambridge getting off the plane and shared the clip on TikTok.
Prince William and Prince George were not traveling with Kate and the children
You can see Kate leaving the plane with her daughter by the hand. Borrallo follows her with Louis. According to "hellomagazine", the convoy was led to a waiting vehicle and roared away. " On a flight to Scotland, Kate Middleton, both children, nannies and security two rows in front of me," reports the user. She even got up halfway through the flight to get her daughter's iPad, he shares details. "And yes, she was gorgeous, even giving me a smile while glancing at the line behind her to speak to her son."
Obviously, Prince William, Duchess Kate and their three children Prince George (9), Princess Charlotte (7) and Prince Louis (4) will spend the rest of the summer holidays with Queen Elizabeth II (96) in Balmoral, Scotland, where the monarch traditionally resides recovered in the country. It is not known whether the Duke of Cambridge got into the car with Prince George or also traveled unrecognized by plane.
Kate Middleton polishes up the Cambridges' cracked image with an economy flight
The fact is, the family is taking a deep breath in the Highlands before they finally move from Kensington Palace to Adelaide Cottage in Windsor and the children will attend Lambrook School in Berkshire in September. Just like Prince William as a child, his offspring will likely be splashing about in the River Dee and exploring. The property has been the private retreat for the British royal family for over 150 years.
In any case, Kate should have a new fan in the TikTok user, because he raves about her appearance in "Dailymail" and emphasized: "She was just a mom who took her children on vacation to see their great-grandmother". Such videos polish the battered image of the family of five again, since the decision to fly away with the royal helicopter on the private summer holidays before visiting the Queen instead of personally confronting climate change had caused a lot of criticism. Sources used: scottishdailyexpress.co.uk , dailymail.co.uk, hellomagazin.com, Instagram