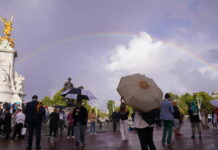 Shortly before the Queen's death became known, the rain-grey sky in London cleared – and a huge rainbow appeared over Buckingham Palace.
LONDON – The world continues to mourn the death of the Queen on Thursday September 8th. Elizabeth II passed away peacefully – surrounded by her family – at the Scottish castle of Balmoral. Even before her death was announced, thousands of worried Britons were gathered in front of Buckingham Palace. Not untypical for London, it had been pouring rain for hours by then. Shortly before the Queen's death, the rain suddenly stopped, the sky cleared – and a huge rainbow shimmered over London. A magical moment – and a kind of special farewell straight from heaven?
Mourning for the Queen: Rainbow over London – "She says goodbye"
There are also countless pictures and videos of the weather phenomenon on the Internet, some with very emotional comments. The rainbow is considered a symbol of harmony and a lucky charm. Many Internet users also refer to this.
"She sent the rainbow to tell the world that everything will be fine," writes one person under an Instagram video of the rainbow. "It must be a sign … for better times, even without her," hopes another. "That was a sign," another is sure. "She says goodbye," says another.
Rainbow just before the Queen's death: "Maybe a sign of Diana"
Striking: In addition to countless "Wow", "RIP" and "God save the Queen" comments, the connection with the deceased Diana keeps coming up. Lady Di died in a car accident in 1997. The relationship between the two was strained for many years. "Princess Diana is waiting for her behind the rainbow," says one user. "Maybe it's a sign from Diana. Hopefully she gets the divine justice she deserves," speculated another. "This is Lady Di's celebration," commented another. As a reception party in heaven, so to speak?
Whether it's a sign from Queen Elizabeth II or Lady Di – or just a normal weather event: the British definitely see it as a symbol at the right time – and a dignified farewell for their beloved Queen.
All news about Queen Elizabeth II also summarized in our compact newsletter. Sign up here.