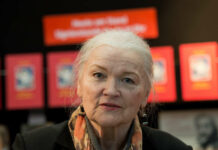 Nina Hagen mourns her mother. Eva-Maria Hagen, singer and actress, has died at the age of 87.
Frankfurt – The singer and actress Eva-Maria Hagen is dead. She died on Tuesday at the age of 87, the management of her daughter Nina Hagen told the AFP news agency on Friday (19 August).
Hagen became known in the GDR as a theater and film actress before she was banned from working because of her protest against the expatriation of singer-songwriter Wolf Biermann and went to the West.
At the age of 87: Eva-Maria Hagen is dead
Eva-Maria Hagen made her theater debut in 1953 with the famous Berliner Ensemble, directed by Bertold Brecht in the play Katzgraben. She gained widespread popularity in 1957 with the title role in the DEFA film comedy "Don't forget my Traudel". In the years that followed, she became one of the most successful actresses in the GDR and, in addition to her stage engagements, played roles in around 50 television films.
Because of her relationship with the singer-songwriter Biermann, her job opportunities were curtailed by the GDR regime. Hagen was publicly discriminated against, threatened by state security and charged with state defamation. When she publicly protested against Biermann's expatriation in 1976, she was dismissed without notice from the German television broadcaster (DFF) in the GDR and banned from working.
In 1977 Hagen followed her former partner to the Federal Republic together with her daughter Nina, who came from her previous marriage to the writer Hans Oliva-Hagen. There she built up a second career as a chanson singer in addition to film and theater. (asc/afp)