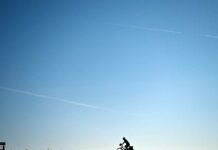 The summer high "Oscar" is slowly saying goodbye. A few showers and thunderstorms are forecast. It should cool down significantly by mid-week.
Offenbach – After a hot weekend, it is cooling down a bit in large parts of Germany. On Sunday it will be mostly clear and dry, said the German Weather Service (DWD) on Saturday in Offenbach. There is only a slight risk of showers in the central low mountain range and in the Bavarian Forest.
The temperatures rise to a maximum of 28 to 35 degrees. In the night to Monday, the summer high "Oscar" says goodbye in the direction of north-eastern Europe. Clouds and showers are increasing, but it will remain dry for the most part. Temperatures drop to 21 to 15 degrees.
According to the DWD, individual showers and thunderstorms are possible throughout Germany from Monday with variable clouds. "But it often stays dry," said DWD meteorologist Marcel Schmid. Thunderstorms with some hail and squalls are only possible in the north, in the north-east and on the edge of the Alps. The maximum values are between 26 and 31 degrees. In the western low mountain ranges, on the edge of the Alps and on the coast, it gets a little cooler.
High summer temperatures will continue through Tuesday. It should cool down significantly by mid-week. "This increases the chances of gradually reducing the drought and reducing the risk of forest fires," said Schmid. dpa