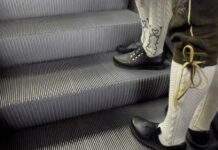 On the way to the Oktoberfest, crowds of people often pile up in the Munich subways. There, during the Wiesn, things should not only go faster on the escalators in the direction of the beer tent.
Munich – At the start of the Oktoberfest on Saturday, the Munich transport company (MVG) switched to Wiesn mode. Then more underground trains than usual go to the Theresienwiese – and the escalators are set up faster.
"We are condensing the cycle time on the U4/U5 lines so that during the Oktoberfest, depending on the time of day, a train runs between Theresienwiese and the city center every 2.5 to 3.3 minutes," explained an MVG spokesman. This roughly doubles the clock rate. If the platform is full anyway, a subway will sometimes drive through without stopping to the next station.
Don't lose your balance
The escalators – in Germany, according to a DIN standard, travel at 0.5 meters per second – are set to 0.68 meters per second at the Wiesn peak time. But nobody will lose their balance because of the speed – in many countries, escalators are moving at a higher speed even in normal operation.
In addition, there are other measures to be as well prepared as possible for the Oktoberfest rush, explained the MVG spokesman. At the Theresienwiese underground station, an escalator fitter is on site during the day and in the evening in order to be able to quickly rectify minor disruptions. In addition to 120 external workers, colleagues from the Berlin BVG, the SSB Stuttgart, the Hamburger Hochbahn, the Wiener Linien and a few other transport companies help out.
Paramedics and cleaning service in continuous use
In the afternoons and evenings there is also a medical service in the subway station to be able to take care of passengers with physical problems quickly. The cleaning service will then also be on site at the Theresienwiese "just in case". Last but not least, enjoying the particularly strong beer during the Wiesn regularly leads to various types of dirt around the site.
For the first time after the two-year Corona break, millions of guests are expected at the Oktoberfest this year; many of them are not allowed to drive a car themselves after visiting the festival site. There are also more trains on the S-Bahn. S-Bahn trains are dispatched every minute at the Hackerbrücke as a Wiesn stop. During the Oktoberfest, Deutsche Bahn registered a good 100,000 more people a day than usual in the Munich S-Bahn. dpa