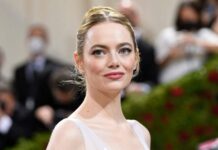 The Greek director Yorgos Lanthimos (49, "The Favorite – Intrigues and Madness") has been able to win a star cast for his new project.
Los Angeles – In addition to Oscar winner Emma Stone (33, "La La Land") are Willem Dafoe (67, "Nightmare Alley"), Jesse Plemons (34, "The Power of the Dog") and Margaret Qualley (27, " Once Upon a Time in Hollywood) on board the film And, the studio Searchlight Pictures announced.
According to Variety, filming is set to begin in New Orleans in October. The content of the film is still under lock and key.
Stone has starred with Lanthimos on several occasions, including the 2019 edgy comedy The Favorite, which was nominated for ten Oscars and won the trophy for Olivia Colman as the ill-tempered Queen Anne. With eight awards, "The Favourite" was the big winner at the European Film Awards. For the psychological thriller "The Killing of a Sacred Deer" (2017), Lanthimos was previously able to win over stars such as Nicole Kidman and Colin Farrell. dpa