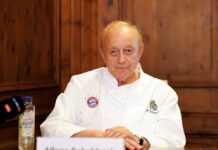 It's getting serious for star chef Alfons Schuhbeck: his trial for tax evasion begins this Wednesday.
Munich – The trial against star chef Alfons Schuhbeck begins this Wednesday (9:00 a.m.) at the Munich I Regional Court. The public prosecutor accuses him of tax evasion in the millions.
According to a ruling by the Federal Court of Justice (BGH) in Karlsruhe in 2012, there is usually a risk of imprisonment without parole from a sum of one million euros. Should Schuhbeck be convicted for the accused acts, prison is a realistic option for the 73-year-old.
In 25 cases, the public prosecutor's office has accused him of tax evasion, until December 22, 18 days of trial are scheduled. A co-accused is accused of aiding and abetting.
When the investigations against him became known three years ago, Schuhbeck said: "I will work very closely and very openly with the authorities to refute all allegations." He is "answered by the authorities on all questions". Shortly before the start of the process, however, neither Schuhbeck nor his lawyers wanted to comment on the process.
The judiciary gave the process the process name "ginger" – after one of Schuhbeck's favorite ingredients. The presumption of innocence applies until the final conclusion of the proceedings.
For Schuhbeck, the process is likely to be the low point of his career, in which he cooked for the Beatles and Charlie Chaplin, former Chancellor Angela Merkel and Queen Elizabeth II. dpa