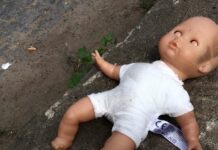 In the past few days, police officers have rung the bell at 34 apartments in the Ruhr area: suspected possession of child pornography. The police are now evaluating confiscated mobile phones, computers and data carriers.
Essen/Mülheim an der Ruhr – Police officers searched 34 apartments during a child pornography raid in Essen and Mülheim an der Ruhr. It is about the suspicion of distribution and possession of child pornography and the suspicion of sexual abuse, the police said on Thursday. It is therefore about individual facts, not about a coherent "ring".
When asked, a police spokeswoman initially did not say how many suspects there were. It also remained unclear whether the persons themselves should also be involved in the abuse of minors. With some of the suspects, identification services were carried out – for example, they were photographed. The investigators want to use the images to compare whether the people themselves appear in the videos and whether they can be identified by features such as scars or tattoos.
Computers, mobile phones and data carriers confiscated
The spokeswoman said none of the suspects were in custody. During the searches on Tuesday and Wednesday, 19 mobile phones, 10 computers, 19 USB sticks and 4 external hard drives were seized. These are to be evaluated in the coming weeks.
According to the police spokeswoman, the accused could also include young people who watch videos shared in chat groups but have no inclination to do so. In the case of these, one does not have to assume that they could possibly also be involved in sexual abuse themselves.
As the police said, only last week they received information about a 58-year-old suspected abuser who was arrested on the same day and is now in custody. He is being investigated for serious sexual abuse, including that of his daughter. He is also said to have recorded and sent child pornography material from another girl. The police spokeswoman said on Thursday that the 58-year-old did not draw attention to the suspects, whose homes have now been searched.
The searches were carried out by the special organizational structure (BAO) "Herkules", which was founded last November. The special unit attached to the Essen police specializes in child pornography and sexual violence against children. dpa