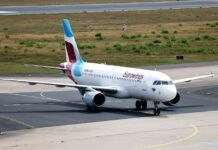 Big strike at Eurowings: The airline's pilots stop working on Thursday. Around half of all flights are said to be cancelled.
Düsseldorf – The pilots of the airline Eurowings are on strike on Thursday. The pilots' union Vereinigung Cockpit has called for a day-long strike at the Lufthansa subsidiary. According to Eurowings, around half of all planned flights will be cancelled. This hits the airports in NRW particularly hard.
In North Rhine-Westphalia it is currently the autumn holidays and Eurowings flights to popular holiday destinations are currently taking off daily from Düsseldorf Airport, Cologne/Bonn Airport and Dortmund Airport.
24RHEIN shows which Eurowings flights in NRW are canceled due to the strike on October 6th.
On Tuesday evening, the Cockpit Association declared the collective bargaining with Eurowings to have failed and called for industrial action. One of the main demands of the pilots' union is relief for the crews. Flight duty times are to be reduced and rest periods increased. (bs)