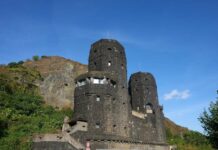 77 years ago, US troops crossed the Rhine near Remagen. Shortly thereafter, the bridge collapses. A successor is now being discussed.
Remagen/Erpel – A new study considers the construction of a Rhine crossing for pedestrians and cyclists to be possible on the site of the destroyed, world-famous Remagen bridge. The construction of a 325 meter long and six meter wide structure between the twin towers of the historic bridge preserved on both banks of the Rhine is therefore "feasible and realistic", said the city of Remagen's economic developer, Marc Bors, on Tuesday. According to the engineering feasibility study, the filigree suspension bridge could be built 9.10 meters above the highest navigable water level in the next ten years for "22 million euros net".
In emergencies, the new crossing for pedestrians and cyclists between Remagen on the left bank of the Rhine and the Erpel on the opposite side should also be passable by blue light vehicles, but "definitely not a car bridge," added Bors. According to him, new slender pillars should only stand on the banks – in each case behind the listed historical bridge towers.
The city of Remagen, the municipality of Unkel and the local community of Erpel south of Bonn would be overwhelmed with the financing of the project, the business developer explained. "The state of Rhineland-Palatinate and the federal government are also in demand." There are corresponding talks and positive signals, but no concrete commitments yet.
According to Bors, in an online survey of more than 3,500 citizens, 91 percent ultimately voted for the new suspension bridge. Between Bonn and Neuwied there is currently no fixed Rhine crossing for about 44 kilometers, only ferries that do not run around the clock.
During the Second World War, the US Army was able to cross the Rhine eastwards for the first time on March 7, 1945 after the Wehrmacht had withdrawn from France, without the building being destroyed by the Germans as planned. It only collapsed ten days later. According to historians, this significantly accelerated the progress of the war. These events were made world-famous in the late 1960s by the US film "Die Brücke von Remagen". Today there is a peace museum in the two bridge towers on the left bank of the Rhine. dpa