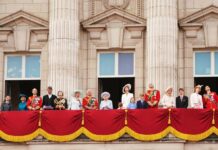 Should the royal family continue to exist in Britain in its current form? A survey now indicates the desired change. The new king could even comply with these wishes.
LONDON – Almost two-thirds of Britons support a royal family with fewer active members after the death of Queen Elizabeth II. This is the result of a survey by the opinion research institute Savanta ComRes, which was commissioned by the tabloid "Daily Express".
As the paper reported on Wednesday, 65 percent of those surveyed were in favor of having only seven "working royals" instead of eleven. Only 7 percent disagreed. The rest had no opinion.
Is Charles III planning to downsize the royal house?
According to reports, the new King Charles III. have long wanted to downsize the royal family. According to the "Express", in addition to Charles (73) and his royal wife Camilla (75), only heirs to the throne Prince William and Princess Kate (both 40) and Princess Anne (72) and Prince Edward (58) with his wife, Countess Sophie ( 57), play a role.
Only a minority would like Prince Harry (38) and Duchess Meghan (41) to return to the inner circle of the Royals. This was supported by 32 percent of those surveyed. 57 percent expressly do not want that.
However, the survey also showed that the British were very fond of their new royal couple. 63 percent of those surveyed are convinced that Charles got off to a good start as a monarch. Even 69 percent were confident that he would be a good king. 58 percent trust Camilla to shine in the role of king's wife.
Overall, according to the survey, two-thirds (66 percent) of Britons still support the monarchy form of government. After all, almost a quarter (22 percent) want to abolish them. dpa