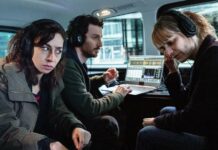 The Zurich crime scene "Risks with side effects" is contemporary and still paralyzed.
The most original thing about this crime scene, which doesn't throw around anything original, is the fact that women mostly make up what's happening among themselves. As victims, suspects, witnesses, relatives, criminals of a justiciable and moral nature, investigators and bosses at all levels. It doesn't make the world any better, which is always a disappointment, but it doesn't make it any worse either, and that's the bigger argument.
Men also appear, Ott and Grandjean's helpers on the computer, for example, the nice Noah Löwenherz (Aaron Arens), who is making nonsense with a new language program – the women can only shake their heads -, on the other hand, his play instinct will still be useful later on.
Straightforward or way too simple
The script was written by Nina Vukovic and Stefanie Veith, Christine Repond directed it, but her view of society, which is not at all unrealistic, encounters such a degree of slowness in action and execution that "risks with side effects" caused the disappointing start of the Ludwigshafen crime scene season last week ultimately just continued with other means. Blatant illogicality is not to be feared in the criminalistic process this time, but something that some might call straightforwardness, but for others it will be far too easy.
At the heart of the action: a tragedy. A teenage girl suffering from an autoimmune disease, played laconic and plausible by Anouk Petri, takes part in a final series of tests for a new, staggeringly expensive drug. The fact that her condition has apparently deteriorated dramatically as a result embarrasses the relevant pharmaceutical company. A gentle, tough, but acting lawyer, Sabine Timoteo, is supposed to take care of it, soon after she is found dead in Lake Zurich.
The number of people who need an alibi is manageable, but not trivial: the lawyer was popular and envied, the dignified law firm in which she worked is full of suspicious Swiss discretion, especially the boss. Therese Affolter actually plays her with gripping restraint as a woman who has learned not to be inscrutable, but to be invisible according to all the rules of the art. A connection between the murder and the alleged pharmaceutical scandal is also extremely close. While the girl's desperate mother would have accepted the millions offered, the daughter rigorously rejects the immoral offer. And while the young developer of the drug, Laura de Weck, talks smoothly about all obstacles and doubts, Robert Hunger-Bühler appears from the background as the professor with whom she once worked on it. She booted him out in time. Upside-down world, but not off the mark, although a few off-roads would otherwise do this episode good.
meaningful looks
Because that is now developing more sluggishly than Ott and Grandjean deserve, Carol Schuler and Anna Pieri Zuercher. There is endless airtime to follow Ott on her bike through Zurich and to watch both of them meaningfully watching everywhere. Risks With Side Effects suffers from a timing issue or a cultural misunderstanding of the difference between intensity and time wasting. However, the way Grandjean uses the word "whiner" is very nice. She also raps quickly at the end. Really.
A crime scene that is cold has an almost utopian dimension after this summer, even if you immediately think of the heating costs. All in all, there is time to think about all sorts of things.
"Crime scene: risks with side effects", ARD, Sunday, 8:15 p.m.