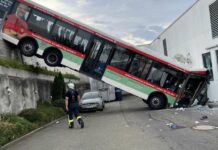 A collision between a bus and a VW bus in Herrenberg, Swabia, had serious consequences. The former fell down a slope and landed on the wall of an Aldi.
Munich – The front is completely deformed and pressed against the wall of an Aldi supermarket, the rear is several meters higher at the top of a slope, the four rear tires are hanging in the air. This is how a regular bus ended on Friday afternoon (August 19) in Herrenberg, Swabia. The 72-year-old bus driver had to be flown to a hospital by helicopter with serious injuries, and two other people were also injured, according to the police.
It was an employee of the shop inside the building who braked the bus and the driver of the van with which the bus had previously collided. According to the first findings of the police, the bus driver in the city of 30,000 near Tübingen had ignored the right of way of the van at the exit from a bus station.
As a result of the collision of the two vehicles, the bus slid down the slope and rushed down. The transporter, on the other hand, came to a standstill just before the abyss, but here too the rear and rear tires were hanging in the air, as pictures from the accident site show.
Video: Car crashes into apartment building – driver and resident injured
Bus accident in Herrenberg: driver taken out by first responders – "probably not in mortal danger"
As the Herrenberger Zeitung reports, the volunteer fire brigade was alerted at 4:15 p.m. Accordingly, the bus driver was alone in the vehicle and was taken out by first responders. According to the article, the transporter is a VW bus.
The Böblinger Bote quotes a spokesman for the Ludwigsburg police department, who said with regard to the bus driver: "He is probably not in mortal danger." Here it is said that the supermarket employee suffered a shock, and the driver of the VW bus was also one Woman. The height difference between the roadway and the driveway to the discounter should be 15 meters.
The wreck should be salvaged with cranes. The officials put the damage to property in an initial estimate at 115,000 euros. Experts should be consulted to analyze how the accident happened. (mg)
In Upper Bavaria, a biker died in a collision with a car. An 18-year-old motorcyclist from Feldkirchen also had a fatal accident. A Tölzer prevented a bad accident with a truck by jumping off his scooter.