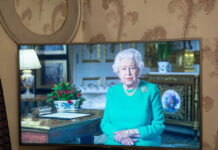 On April 4, 2021, Queen Elizabeth II delivered her fifth and final extraordinary address to the nation. Her husband, Prince Philip, died five days later at the age of 99.
With her speech, the Queen wanted to congratulate, shake up and encourage the British people under her highness not to let the Covid pandemic get her down. We document excerpts of the transcript here, which in its current light attains almost prophetic qualities:
"I speak to you at a time of ever greater challenge, as I know only too well. It is a time of disruption in life in our country, disruptions that bring some the pain of losing loved ones, plunge many into financial distress and confront us all with tremendous changes in our daily lives.
I want to thank everyone who is on the front lines of the NHS alongside so many others who are selflessly going about their day-to-day work for our community. I'm sure the nation will agree with me that we really appreciate what you're doing. Every hour of your hard work brings us all closer to returning to more normal times.
(…)
I hope that in the years to come everyone can be proud of how we have taken on this challenge. Those who come after us will say this generation of Britons was as strong as any other. That the characteristics of self-discipline, cheerful determination and community spirit still apply to this country. Pride in what we are is not part of the past, it paints our present and our future.
Those moments when the UK applauded its carers and the other essential professions will be remembered as an expression of who we are – and its symbol will be the rainbows drawn by children.
Across the Commonwealth – yes, across the world, we experience heartwarming moments when people come together to help others, whether it's dropping off food parcels or medicine, checking on the neighbors, or converting businesses to running aid.
(…)
This reminds me of my very first radio address in 1940 with the help of my sister. We children (…) spoke to the children who had been sent away for their safety (to areas beyond the reach of German bombers, ed.). Today many will again feel the pain of separation from their loved ones. But now, as then, we know deep down that it's the right thing to do. This challenge is different from the previous ones. This time we are making a concerted effort with all the nations of the world. (…) We will succeed, and this success will be the success of all of us.
(…)
Let us all take solace in the fact that while more will have to be endured, better times will come. We will meet again with our friends, with our families. We will meet again." FR