Britain has a new king. But in his past, Charles III. not undisputed. A review.
London – Queen Elizabeth II is dead. The Queen is succeeded by her son, Prince Charles. For decades, Prince Charles was overshadowed by his mother. At an age when others have long since retired, he took over as Charles III at the age of 73. the Regency of the United Kingdom. Given Queen Elizabeth II's longevity, observers even speculated that history would pass entirely by her son Charles Philip Arthur George Windsor and that the throne would pass directly to his eldest son Prince William.
Never before in the history of the British monarchy has a member of the royal family held the title of heir apparent for as long as Charles, who was three years old when his mother ascended the throne. It's high time to take a look at the new king's past – because it wasn't without lapses that caused massive media hype.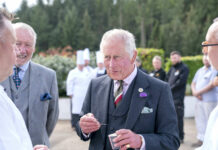 Prince Charles becomes king: the greatest transgressions of the old prince
After studying at Cambridge, Charles served in the Royal Navy from 1971 to 1976. During the eight-month assignment in the Caribbean, his ex-girlfriend and great love Camilla married someone else. More girlfriends followed, and in 1979 he unsuccessfully proposed to a granddaughter of his great-uncle Lord Mountbatten.
The pressure on Charles to finally find a wife grew. In 1981, aged 32, he became engaged to Lady Diana Spencer, who was 19 at the time. A world televised "fairytale wedding" at St. Paul's Cathedral followed. In the years that followed, sons William and Harry were born. But happiness didn't last long.
Charles III: Mud fight with popular Lady Diana
In a bitter mud fight that finally ended in a separation and divorce between Charles and Diana, the prince's image was badly damaged. Diana followed up by speaking openly about the infidelities on both sides in an interview in 1995 and harshly criticizing Charles for his affair with Camilla. For years, Camilla and Diana were rivals – and for a long time the British seemed to share the princess' dislike for the rival she once mocked as "Rottweiler". After Diana's death, criticism of the royal family and Prince Charles only increased. Many blamed him for the separation and criticized the distanced handling of many royals with Diana's death.
Charles III
Born
November 14, 1948
spouse
Camilla (married since 2005)
children
Prince William and Harry
King Charles III: "Black Spider" scandal lingered on him for a long time
A legal dispute with The Guardian newspaper involved the so-called "Black Spider Memos". In them, the then heir to the throne is said to have tried in 2004 and 2005 to exert political influence on politicians such as then Prime Minister Tony Blair. The Guardian explained in an article: "From Blair, Charles was demanding everything from urgent measures to improve equipment for troops fighting in Iraq, to the availability of alternative herbal medicines in Britain, a favorite concern of the Prince." In 2018, Charles assured in an interview that he had never directly interfered in party politics.
A little later, in 2021, another scandal shook the royal family. This revolved around a close confidant of the heir to the throne at the time. Michael Fawcett had been in the service of the Palace since 1981, working his way up to valet to the Queen's eldest son. Although he was acquitted of allegations that he had withheld a share from the sale of royal gifts, he resigned in 2003, also because the investigation report criticized his behavior in the palace. In 2018 he was appointed head of the Prince's Foundation. Eventually, in 2021, he resigned from that post as well. The reason: Allegations were raised again, this time Fawcett was accused of having helped a major donor from Saudi Arabia to get an honorary degree. (slo with AFP)