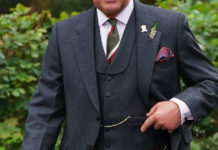 The new King Charles III spent decades preparing for his new role
In recent years, Great Britain has had a glimpse of the reign of King Charles III with increasing frequency. receive. At the COP26 world climate conference last November, the longest-waiting heir to the throne of the United Kingdom took over the duties of head of state, as he did this spring at the throne speech in the London Parliament. At a time when most of his peers have either retired or are about to, the 73-year-old is now taking over the throne from his late mother.
There were phases in life in which the prince, who was described as brooding, was said to be reluctant to take office. Half-sentences from his mouth were quoted as evidence, such as: "If I have to follow…" This only reflected the real dichotomy that many people in a comparable situation would probably perceive: that September 8, 2022 was also the anniversary of his death Mother is. But precisely because he loved and respected his mother, for this deeply religious man there is no doubt that following her is his rightful—yes, divinely willed—task.
In a BBC documentary aired years ago, Charles was specifically asked about his image as a 'meddling prince' – and concerns he might continue to speak out on controversial issues during his own tenure. "No, I'm not doing that," he hissed at the time. "I'm not that stupid. I fully understand that these are two different roles."
Regarding such halfway critical questions about how one wants to practice one's profession in the future, one may feel whatever one wants – the normality of a sprightly pensioner certainly looks different. But what is normal in the life of a man for whose baptism in Advent 1948 water was fetched from the Jordan and then solemnly consecrated.
According to disappointed courtiers and critical biographers, Charles is an impatient, often uncontrolled, occasionally self-pitying man. But the unique position also awakened in him from childhood the need to do his duty and benefit others. "I serve" is written in German on the Prince of Wales' coat of arms, and Charles took those words seriously.
His Prince's Trust has supported young people with loans and business start-up advice for decades, and his Duchy of Cornwall label pioneered organic food. Charles was often ahead of public opinion, for example with his advocacy of recycling and natural agriculture or with his criticism of overly clumsy architecture. Environmental protection, sustainability and the fight against climate change have not only occupied him since the Fridays for Future – even at times when these topics were by no means the focus of public attention or were even derided as the whims of aristocratic eccentrics. "He was way ahead of his time," was Prince William's recent praise; the new number one in line to the throne has inherited his father's commitment to the rapid decarbonization of the global economy.
Through his visits to Commonwealth member countries, including many small and micro developing countries of the Global South, frequent flyer Charles has not only contributed to the strain on the planet; The new king of Great Britain and 14 ex-colonies from Australia to Jamaica knows the global effects of the climate crisis better than almost anyone else, apart perhaps from his mother.
Sometimes Charles also drew severe criticism, for example when he promoted alternative medicine. "He feels compelled to make a difference," believes London journalist Catherine Mayer, one of his most knowledgeable biographers.
The Scottish theologian Ian Bradley once summed up his observations of Charles: "Many of the speeches and conversations of this troubled man revolve around the dissolution of the modern world and the need to give it a new order and balance." While the then Queen was a moderate conservative, the prince was a "radical Green", judged years ago by the business magazine "Economist".
Forgotten are the difficult years in the shadow of his glamorous first wife Diana, who died a quarter of a century ago at the age of 36. This is certainly also due to the fact that Charles now – in terms of media attention – lives in another shadow, which is lighter for him, namely that of his sons William and Harry and their wives Catherine and Meghan. While William and Kate with their children George, Charlotte and Louis are accompanied by hundreds of media on trips abroad, biographer Mayer noted about a trip to Canada with the heir to the throne at the time: "Exactly five journalists traveled with them."
Last but not least, his longtime lover and current wife Camilla has contributed to the inner balance of the new king. As a result of the second marriage, Charles had mutated from an old grumbler into an "unmistakably happy man", according to the observation of the British-American author Tina Brown. Charles biographer Mayer believes that Camilla's "unshakeable cheerful nature" is of the utmost importance to the thoughtful prince.
Charles will have a hard time stepping out of the well-respected Queen's shadow. But the events of this Thursday have made it clear: the principle of hereditary monarchy will not be shaken on the island; The national anthem changes from "God save the Queen" to "God save the King" in a flash. And unlike his mother, Charles will not feel the obligation to persevere to the bitter end, after all he is not shaped by the trauma of the abdication of his great-uncle Edward VIII in 1936 like the then ten-year-old princess. Nothing speaks against the fact that Charles III. after a reasonable period of time – maybe ten, maybe 15 years – for health reasons really retires and leaves the field to William.