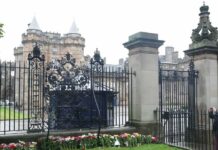 Queen Elizabeth II begins her final journey. The coffin containing her body will be taken to Edinburgh and on to London next week. In the meantime, details of the state funeral have also become known.
Edinburgh/London – Three days after the death of Queen Elizabeth II, her body is to be transferred to Edinburgh this Sunday. The British Queen died on Thursday at the age of 96 at Balmoral Castle in the Scottish Highlands. From there, the body is to be taken by car to the Scottish capital, around 120 kilometers away – initially to Holyrood Palace, the Queen's official residence in Scotland.
On Monday, the coffin will be carried in a solemn procession attended by the new King Charles III. and other royals to St. Giles' Cathedral. The coffin will be there by Tuesday. The public will then also have the opportunity to pay their respects to the Queen and say one last goodbye.
Public procession in London
The coffin will be shipped to London on Tuesday. The next day he is taken in a public procession through the streets of central London. The coffin is to be taken from Buckingham Palace to Parliament on a horse-drawn carriage known as a carriage, the palace said.
The funeral procession is to lead down The Mall and via the parade ground Horse Guards Parade and the streets of White Hall and Parliament Street to Parliament known as the Palace of Westminster. The Queen will be laid out there for four days. There, too, people should once again have the opportunity to say goodbye to the Queen. Many thousands are expected.
State funeral on September 19th
The state funeral finally takes place on September 19th. A service is planned at 12 p.m. (CEST) at Westminster Abbey in London. People in the UK get an extra day off. Charles III had approved this holiday on the occasion of his proclamation.
The Queen will be buried in St George's Chapel in the grounds of Windsor Castle, where her husband Prince Philip, who died on April 9, 2021, is also buried. Her closest relatives, her father George VI, her mother, known as the "Queen Mum", and her sister, Princess Margaret, were also buried there.
Numerous heads of state and government from all over the world are expected at the state funeral, including several queens and kings of European countries.
The reign of the new monarch Charles III. officially began on Saturday, although he automatically became king with the death of his mother. The 73-year-old was proclaimed King of Britain in a ceremony at St. James's Palace in London.
"I am deeply aware of the great legacy and the duties and heavy responsibilities of the monarch that have now been entrusted to me," said Charles III. His mother's reign was unsurpassed in length, devotion, and devotion. He will strive to "follow the inspirational example that has been given to me in upholding the Constitution and seeking peace, harmony and prosperity among the peoples of these islands, Commonwealth areas and territories around the world." dpa