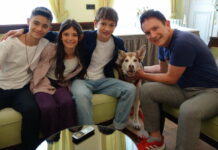 Interview with Mika Ullritz, Lola Linnéa Padotzke and Milo Haaf, the young stars from "The Young Chief Winnetou".
FRANKFURT/MUNICH – Beyond the debate about "redfacing" and cultural appropriation, Mike Marzuk's "The Young Chief Winnetou" (opening in cinemas nationwide since August 11) is an adventure film that captures the romantic spirit of the Karl May adaptations from the 1960s -years resurrects. The young actors in particular did an amazingly good job in it. Our employee Marc Hairapetian met the young stars Mika Ullritz (Winnetou, today 14 years old), Lola Linnéa Padotzke (Nscho-tschi, 12), and Milo Haaf (Tom Silver, 14) with his Siberian wolfhound husky Felix on November 7. August, the day of the world premiere, for an interview at the five-star Hotel Bayerischer Hof in Munich.
"The Young Chief Winnetou": Interview with Mika Ullritz, Lola Linnéa Padotzke and Milo Haaf
Harry Potter and Marvel movies are hot in your generation. Did you already know Karl May and the film adaptations of his works?
Mika Ullritz: I've seen a few Winnetou films and find them exciting.
Lola Linnéa Padotzke: The funny thing is that I only saw a Winnetou film for the first time yesterday, the "real" one from the 1960s. I have to say that our film is much more harmless in comparison.
Milo Haaf: For me, I actually really liked watching westerns before. My grandfather likes to watch westerns and so does my father. That's why I haven't only seen the Winnetou films, but also other Westerns. "The Treasure of the Silver Lake" is my favorite film.
"The Young Chief Winnetou"
Exclusive interview with Mehmet Kurtuluş and Anatole Taubman on cultural appropriation, "redfacing" and our fear society.
Mine from the Karl May westerns too. I also got to know Winnetou actor Pierre Brice personally. During my interviews with him, he always fed my then husky Labrador Hokis chicken breast fillet at the Hotel Adlon in Berlin.
Mika, Lola and Milo (like a shot in chorus) : Cool!
Was it a dream thing for you to play Cowboys and Indians? Incidentally, nowadays one hardly says Indian. Better to say the Native Americans.
Mike: I know. I really enjoyed playing him. It was difficult every now and then. Winnetou is very calm and imitating his distant gaze was sometimes quite exhausting for me. But other than that, I had a really nice time with the crew and the actors.
Lola: Well, I loved playing an Apache. My mother, who is an actress, loves the role of Nscho-tschi because she knows the films. She explained the role to me and showed me pictures. She also prepared me for the e-casting and did my pigtails. It was difficult for me to play nscho-tschi at first because I used to be rather shy. And Nscho-tschi is courageous and stands there with his legs apart. I had to learn that too.
Milo: When I recorded my scenes at home for the e-casting, my father said straight away: 'That's you!' because I really see myself in the role. Tom babbles a lot and I do that too. If I had been allowed to decide for myself, I would have only taken this role! And that's how it happened. It was a lot of fun to be able to embody Tom.
"The Young Chief Winnetou": stage fright while shooting
If my information is correct, this is your first film role, Milo. Did you have stage fright while shooting?
Milo: I remember when we – Mika, Lola and I – drove to the desert for the shoot and sat in the car, it makes you think. You think of the whole team. There is a lot of money and responsibility behind it. I was very excited then. The two were there. I then said to Lola: "You can divide the excitement by three." Then it worked! From the
first day of shooting it was just fun for me.
Mika, you are already a "pro" thanks to your role in the soap opera "Sturm der Liebe" and the movie "Fack ju Göthe 3". Are you still excited on set?
Mika: Here it is. Because it is a remake or a prequel to an old, very successful film series. The Western genre is also new to me. And I still have stage fright. Also because you are always scared at the beginning when you do something wrong and ask yourself: will someone be mad at me then? But I have that with every film.
It settles down after the first day of shooting and everything is fine again.
Lola: So far I've almost exclusively acted in thrillers like "Kommissarin Lucas" and "Maria Mafiosi", which I wasn't allowed to watch at the time because I was still too small. They always took great care of me there. "The Young Chief Winnetou" is my first feature film with a premiere. In any case, this makes me excited!
Mika: Me too. But now it works.
Milo: I'm just excited to see the film. All three of us. (Mika and Lola nod in agreement)
And do you enjoy giving interviews or is it exhausting?
Mika: I do. We all enjoy that, don't we?
Milo: Ready!
Lola: Me too.
"The Young Chief Winnetou": Confrontation with the Native Americans
You blood brothers or blood siblings, do you all want to be professional actors?
Milo: After "The Young Chief Winnetou" I came to an agency and just played a role in "Himmel, Herrgott, Sakrament" directed by Franz Xaver Bogner on BR. My last day of shooting was just a few days ago. I let it come to me. I'm going to continue acting for now because I just enjoy it. Maybe it will be my job too.
Mika: I would like to become an actor and continue to do so for my whole life.
You definitely have talent.
Mika: Thank you very much!
Lola: I actually intend to become a seamstress, but if the opportunity arises: I could also very well imagine being an actress.
Did the film bring you closer to Native Americans? Do you know that over the centuries you have been treated very unfairly by white invaders?
Mika: Of course, that's very sad. We hadn't dealt with the subject that intensively before the film, but we learned a lot from the shoot. In "The Young Chief Winnetou" you can also see that they fought very hard with the whites in order not to be pushed back and, for example, to lose food and fur for the winter.
Milo: You automatically deal with the topic. We all learned more about it from The Young Chief Winnetou. It is very important for me to learn more about this topic.
Lola: I was especially drawn to Native American women. I know a lot of you had blowguns, but also bows and arrows or tomahawks, and you were very brave.
| movie title | The young chief Winnetou |
| --- | --- |
| directing | Mike Marzuk |
| script | Mike Marzuk, Gesa Scheibner |
| production | Ewa Karlstrom, Andreas Ulmke-Smeaton, Christoph Fisser, and Bernd Schiller |
| music | Wolfram de Marco, Fabian Roemer |
| camera | Alexander Fischerkoesen |
| cut | Tobias Hass |
"The Young Chief Winnetou": Anecdotes from the shoot
Can you highlight a special film scene or tell a funny anecdote about the shoot?
Lola: Sometimes it was funny behind the scenes. We had a habit of doing knock pranks. We knocked on the doors and then ran away. But once we got caught…
Mika: But we quickly let that be! (everyone laughs) About the shoot: When Tom Silver, that is Milo, had foot pains from riding bareback and he smeared aloe vera on his sore bottom, it was funny. And the scene when I was pushed off a cliff by two gang members and it was done with a dummy I'll never forget.
Milo: In the hotel where all three of us stayed, there was a gym with a treadmill and a large exercise ball. A lot of funny things happened to us. Once the ball got under the wheel. The impeller then went up and the ball broke.
Lola: After that we noticed that you can't go to the gym until you are 16 and that there is even a surveillance camera installed there.
Milo: We were scared for a few days when the hotel staff approached us. I found the scene in the film very funny, where I confess to Mika alias Winnetou: "I hate to tell you, but I have to go." For this purpose, a bottle with a small hole in it was specially prepared and put in this lukewarm Fanta, which looks yellowish, filled. We all had to laugh at that.
You harmonize so well with each other! Are you friends for life or was it just a shared experience on set?
Mika: Definitely. I would say that we have grown together very well and that we sometimes meet in our private lives.
Milo: Above all, our trips to the sea together, which we did during our time in Andalusia, were very nice. But we still meet every now and then. And not just for the premiere of "The Young Chief Winnetou". (Interview: Marc Hairapetian)