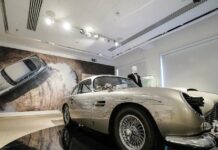 As is well known, 007 only goes on a hunt for criminals in a specially made vehicle. Fans with the wherewithal have the opportunity to bid on cars and other props from the films.
London – An Aston Martin DB5 from the latest James Bond film 'No Time To Die' has been sold at auction in London for around 3.26 million euros (2.92 million pounds).
The iconic car, used in an action scene at the start of the action thriller, was part of an auction held at venerable auction house Christie's to mark the 60th anniversary of the 007 films on Wednesday. The proceeds of the auction benefit almost 50 aid organizations and charities.
Interested parties from Spain, the USA, Canada and Japan, among others, bid by telephone and Internet. An Aston Martin V8, also driven by Bond actor Daniel Craig in No Time to Die, went under the hammer in front of 007 producers Barbara Broccoli and Michael G. Wilson for around 704,000 euros (630,000 pounds). In most cases, the estimated value was significantly exceeded. "This is incredible," Wilson said after the two-hour event, overwhelmed, while Broccoli fought back tears.
Watch, Fabergé egg and even a boat
As well as several cars, an Omega watch worn by Craig (~$270,000), a replica Fabergé egg from Octopussy starring Roger Moore (~$400,000) and a boat from the movie The World Is Not Enough were sold. auctioned with Pierce Brosnan (approx. 141,000 euros) for a good cause. Christie's online auction continues for a week with more than 30 more 007 props.
The first feature film about the famous secret agent, "James Bond – 007 hunts Dr. No" was released in theaters on October 5, 1962. Various events are taking place around the 60th anniversary, including a concert with the music from the Bond films. Stars like Dame Shirley Bassey ("Goldfinger"), Lulu ("The Man With The Golden Gun") and the band Garbage ("The World Is Not Enough") are expected in London's Royal Albert Hall next week. dpa