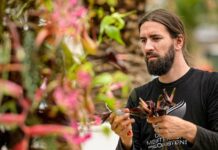 Corona also gave the German Florist Championship a forced break. Now the best of the guild have measured themselves again in Berlin. The winner goes to Manchester next year.
Put flowers, tie bouquets, create small works of art from plants: Thuringian Christopher Ernst is the new German master of florists.
The 36-year-old from Kindelbrück north of Erfurt prevailed against eight competitors in the competition in Berlin at the weekend. After that, the winner was flabbergasted. "I'm rarely at a loss for words, but today I am," Ernst said at the award ceremony on Saturday evening, according to the organizers.
Loose and light bouquets are in trend
The nine florists from all over Germany competed in four tasks related to the topic of "freedom". They were allowed to prepare three works and bring the necessary flowers, plants and materials with them. The fourth task was a surprise. The five-member jury then evaluated the results.
Ernst was not only the overall winner, he also received a special prize for his planting. The winner himself was also convinced that he had succeeded perfectly. The new German champion is allowed to travel to Manchester, Great Britain, for the 2023 World Florist Championships. Second place behind Ernst in the "Florist Oscars" went to Martin Neumann from Dessau-Roßlau in Saxony-Anhalt. Behind them came Andreas Müssig from Murnau in Bavaria in third place.
The championship organized by the Association of German Florists and the company Fleurop is intended to draw attention to the branch, set creative impulses and interest young people in the profession. Flowers are currently getting a lot of appreciation, the association said in advance. In trend: loose and light bouquets. The competition was last held in 2018 – before a compulsory Corona break. The winner back then came from Baden-Württemberg.
For the participants, it was not just about winning, as Berlin florist Thi Phuong Nhung Nguyen explained a few days ago. "I'm really quite happy that I can participate at all," she said. The Berliner finished eighth in the championship on Saturday. dpa