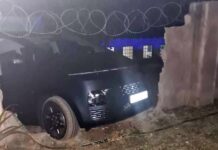 The driver of the car, which was attacked shortly before the Kruger National Park, comes from Hesse. The man died at the scene.
Mbombela/Fulda – The tourist who was shot dead in a robbery in South Africa came from Fulda. The Hessian Ministry of the Interior announced this on Thursday at the request of the German Press Agency in Wiesbaden, citing information from the Federal Foreign Office.
The man was on his way to a safari lodge in the south of the well-known Kruger National Park with three other German tourists earlier this week. According to the police, the group was stopped immediately in front of the park by three armed perpetrators.
When the tourists refused to get out of the car and locked the doors, a gunman reportedly opened fire on the driver of the car. The man then drove the car back about 100 meters and drove into a wall. The driver died at the scene of the crime. After the shots were fired, the perpetrators fled without taking anything. According to the Hessian Ministry of the Interior, the victim was 67 years old. dpa