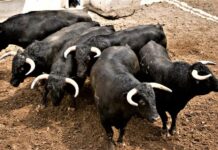 A fatal incident has occurred in the bullring in Murcia. A bull takes a butcher by the horns. This article explains how this happened:
Murcia – A tragic incident occurred during the September Feria in the city of Murcia in south-eastern Spain. On the fringes of a bullfight as part of the celebrations, a bull has killed a butcher. The incident happened in a stall in the bullring. The bull, who was believed to be stunned, suddenly got up again and rammed its horns into the worker's stomach, as reported by costanachrichten.com.
The organizers of the bullfights observed a minute's silence, but did not consider calling off further fights. In the 135-year history of Murcia's bullring, six men lost the fight against the bull.