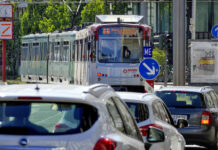 For several decades, an old tram stood hidden in a shaft in Bonn. Now the railway has been brought back into the light of day.
Bonn – For years, the tram in Bonn was on the road. Since the mid-1960s, the so-called "eight-axle vehicle" (also known as the DÜWAG articulated vehicle) has been making its rounds through Bonn, transporting thousands of passengers. 1994 was the end, the tram model was replaced by newer trains. One of these now historic trams has now come to light again: for decades it had been hidden in a shaft underground.
24RHEIN tells the story of the tram, which reappeared in Bonn after many years.
Until recently, car 414 was safely stored below Bonn. The tram can look back on a total mileage of 1.4 million kilometers. (mlu)