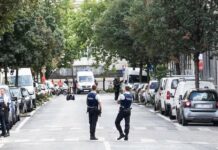 It is still not clear whether it was an attack or an accident: a man drove onto the terraces of two bars on Friday and fled. He was later arrested.
BRUSSELS – The driver of the pickup truck that drove into the terraces of two restaurants in Brussels has to answer to the court for attempted murder. The Belgian news agency Belga reported on Saturday, citing the public prosecutor in Brussels.
The prosecutors did not provide any information on the identity of the man who is currently in custody.
The van crashed into the terrace of a brasserie and a fast-food restaurant in the center of the Belgian capital on Friday afternoon. According to the rescue workers, six people were slightly injured. The alleged driver initially fled, but was arrested in Antwerp on Friday afternoon.
According to the public prosecutor, it was initially unclear whether the car was intentionally or unintentionally driven into the tables and chairs of the restaurants. "I know that the facts are reminiscent of attacks that have taken place in the past, but we do not yet know whether this case is definitely an attack," spokeswoman Willemien Baert said at a press conference on Friday evening. It could also have been an accident. dpa