Summer seems to have finally said goodbye. In the next few days it will be autumnal and stormy.
Munich – Summer has said goodbye for the time being, because it will be stormy and rainy in the next few days. A hurricane has formed on the Atlantic and is heading towards western Europe. It will rain heavily next night and Thursday. Heavy rain and squalls are possible. The German Weather Service (DWD) warns of an increased risk of severe weather. In some places, up to 80 liters of rain per square meter can fall. After that, the weather seems to calm down, but a second hurricane is getting ready.
Weather in Germany: Hurricane brings squalls and showers
For the time being, Wednesday is the last day on which it will be warm like summer – the temperatures will still reach up to 29 degrees. A few showers and thunderstorms are possible. Unusually, hurricane Danielle formed very far north and is heading towards western Europe. Although it is becoming weaker and weaker, it still brings heavy gusts of wind and large amounts of rain with it. The DWD warns of wind speeds of up to 100 km/h.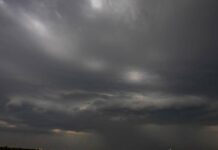 During the night on Thursday, new showers and thunderstorms will move into the country. The day goes on uncomfortably. There may be heavy rain, which can lead to regional flooding. The DWD warns of an increased risk of storms from Saxony-Anhalt to southern Brandenburg and Vogtland. Within a few hours, 50 to 80 liters of rain can fall per square meter. The temperatures are between 17 and 24 degrees.
The weather in the coming day will remain changeable – New hurricane is heading for Europe
The situation calmed down on Friday. There will only be isolated showers and thunderstorms, and sunshine is also possible in places. Saturday is supposed to be the coldest Saturday in weeks. The maximum temperatures are between 15 and 22 degrees, accompanied by rain showers and thunderstorms. From Sunday to next Wednesday the temperatures are constant and range between 18 and 24 degrees.
It will remain dry until Monday with a mix of sun and clouds. On Tuesday there will be new showers, which can still occur sporadically on Wednesday. How things will continue in September remains open. "We still have to wait and see whether we'll get Indian summer then," says weather expert Jung.
Another tropical storm circles the Caribbean. "Earl" sets course for "Danielle's" position. Whether and how this hurricane will hit us remains to be seen. It is no coincidence that a second hurricane is approaching Europe. "As a result of global warming, the seas are also getting warmer, which means that the necessary energy is also available further north. So it could only be a matter of time before a hurricane hits Western Europe with hurricane strength," said RTL meteorologist Paul Heger. (vk)