The weather services have issued the highest warning levels for Japan and Taiwan. In Japan because of a typhoon, in Taiwan because of an earthquake. There is a tsunami warning.
Update from September 18, 3:29 p.m .: In a 6.8 magnitude earthquake in Taiwan on Sunday, numerous houses collapsed, there were dead and injured. A worker died at a cement plant when he was hit by a falling dust filter, the Taipei Crisis Center said on Sunday. It had previously been reported of people trapped in a collapsed supermarket in eastern Hualien County. It has now become known that four of the trapped people were injured and taken to the hospital.
An unusually violent typhoon hits Japan
First report: Taipei – Several weather phenomena in the East China Sea caused warnings on Sunday (September 18). Two earthquakes in Taiwan triggered a tsunami warning. Houses and roads were damaged. A landslide occurred. Meanwhile, southern Japan was hit by a typhoon. The weather service warns of "unprecedented dangers". The situation at a glance.
Typhoon in Japan: weather service warns of "unprecedented" danger
An unusually violent typhoon has hit southern Japan with strong squalls and heavy rain. On Sunday (local time), the 14th typhoon of the season made landfall on the southwestern main island of Kyushu near the city of Kagoshima. Thousands of residents had to seek shelter from the storms, authorities asked more than four million residents to leave their homes, 98,000 households were said to be without electricity, and train and air traffic was affected.
The weather service JMA warned of an "unprecedented" danger and a "very dangerous typhoon". "Extreme caution is required," said a spokesman. As reported by the Tagesschau , wind speeds of up to 250 km/h were expected. Prime Minister Fumio Kishida urged residents on Twitter to "stay away from dangerous places" and – even in daylight – to get to safety as soon as they "feel the slightest danger".
The Japanese television station NHK reported isolated injuries, but there were initially no reports of major damage or fatalities. Warnings were given of high waves and landslides as a result of the heavy rainfall. The slowly moving hurricane is likely to head north-east after the weekend and also cause heavy rain on the main island of Honshu with the capital Tokyo. At the beginning of September there were already deaths and power outages due to a typhoon in South Korea.
Taiwan: Earthquake and tsunami warning – tremors felt as far away as China
Meanwhile, a major earthquake struck off the east coast of Taiwan on Sunday. It had a magnitude of 6.8. Houses and roads were badly damaged. A bridge collapsed in Yuli. A landslide blocked a road. According to media reports, an initially unknown number of people were trapped in a collapsed three-story supermarket in eastern Hualien County. There was initially no information about other victims. Rail traffic has been temporarily suspended. A train derailed. Elevators in tall buildings stopped.
Japan temporarily issued a tsunami warning for Okinawa and other southern islands. The tremors were felt as far away as the capital, Taipei. The state earthquake observation center China Earthquake Networks Center reported clearly noticeable shaking in the coastal areas up to Shanghai.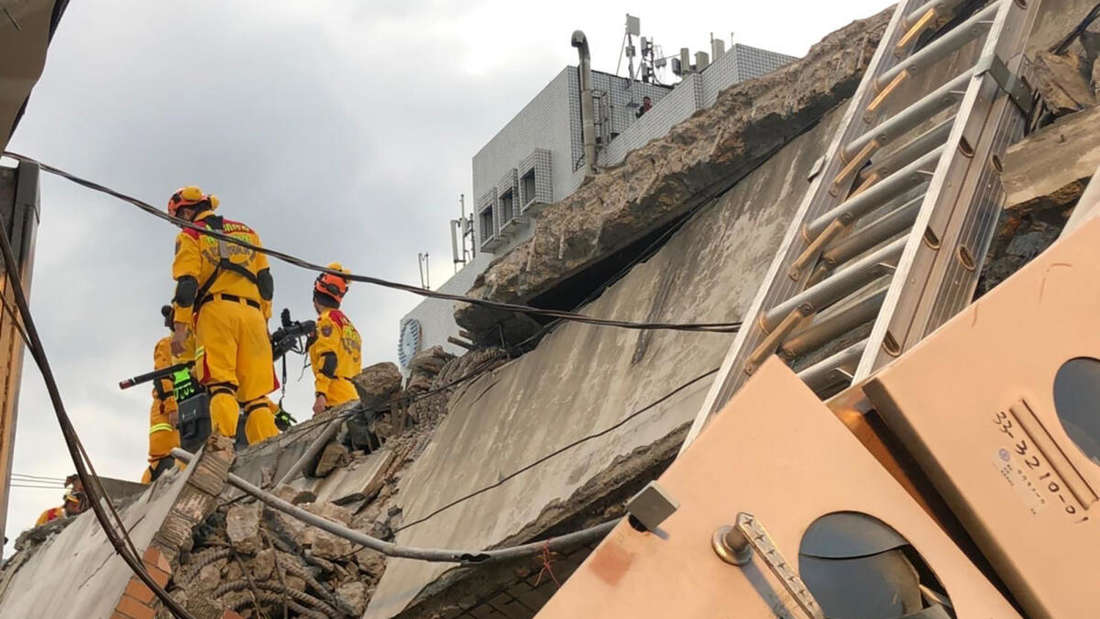 There was already an earthquake on the east coast of Taiwan in the same region on Saturday. However, it was less strong with a magnitude of 6.6. Taiwan is regularly shaken by earthquakes. In Taiwan itself, tsunami warnings are only issued from an earthquake magnitude of 7.0. Rainfall is also currently causing floods and landslides in Europe. Eleven people died in Italy. A mother's child was torn from her arms in the floods. In Germany there is a risk of frost for the first time this autumn. (chd/AFP/dpa)