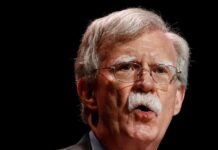 John Bolton, former US national security adviser under Donald Trump, believes that a nuclear war with Russia is closer than ever.
WASHINGTON DC — Ex-US National Security Adviser John Bolton told WABC Radio that nuclear war with Russia is "much closer" than ever. Bolton had always believed that Vladimir Putin would not use nuclear weapons unless Ukrainians crossed the Russian border.
"Putin could use nuclear weapons to strengthen his position at home," Bolton said. Russia's president is in much greater trouble than at the beginning of the Ukraine war. "We have to think about how we could exploit that," added the ex-security advisor.
Ukraine war: Putin and Russia will not give up war
However, he does not believe that Russia is giving up the war. "That would be a signal of weakness with political implications," Bolton said. "Just when you think the Russian military can't do any worse, surprise us and do worse than ever," he said. However, it is not foreseeable that the situation will calm down. According to the current status, Putin could at most face defeat in the gas war.
After talks with Russian President Putin, UN Secretary-General António Guterres currently sees no hope of peace negotiations between Moscow and Kyiv in the near future. "It would be naïve to think that we are close to the possibility of a peace deal," Guterres said in New York. Although the United Nations is prepared to work on a diplomatic solution in every respect, the chances of this are currently "minimal".
Scholz phoned Russia's Putin during the Ukraine war
The day before, Chancellor Scholz had called the Kremlin chief again after a long break. But he sees no change in his attitude to the war against Ukraine, said Scholz on Wednesday. "Unfortunately, I can't tell you that the realization has grown there that it was a mistake to start this war."
Nevertheless, it is right to talk to each other and to explain to Putin your own point of view. Scholz said he was convinced that Russia had to pull out of Ukraine. Scholz had also asked the Russian President to do this. However, Putin categorically refused. (mse/dpa)