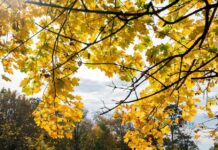 So far, the autumn weather in Germany has been unusually warm. That should be over by the beginning of next week.
Offenbach – Along with October, the unusually high autumn temperatures also say goodbye at the beginning of the new week.
"But we are still a long way from night frosts or even maximum winter temperatures," explained Markus Bösel from the German Weather Service (DWD) in Offenbach on Sunday. On Saturday, record values were again reached at some weather stations.
In Stötten, which belongs to Geislingen an der Steige, 25.2 degrees were measured, said Böse, referring to preliminary data. That was the highest October value recorded since the station was set up south-east of Stuttgart in 1947, he explained. The other stations, where record values were registered at the weekend, were set up much later. If you only look at the last third of October, which begins on October 21, then a new high of 26.2 degrees was recorded in Munich on Saturday for this period.
Fog on Monday
On Monday, after the fog and high fog have cleared, it will no longer be as sunny as in the past few days, as the DWD announced. "It may rain a few drops in the northwest, otherwise it will remain dry." It will be mild again with maximum values between 15 and 20 degrees, up to 22 degrees are possible on the north sides of the southern low mountain ranges and on the edge of the Alps.
On Tuesday there may be some rain in some places with changing clouds, in the afternoon it will be largely dry in the north-west, east and south-east according to the forecast. The maximum temperatures are expected to reach 15 to 20 degrees. dpa