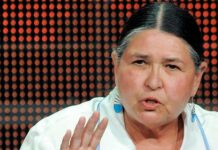 A few weeks ago, the Oscar Academy apologized for years of hostilities. Now activist Sacheen Littlefeather has died.
Los Angeles – US actress and Indigenous activist Sacheen Littlefeather, who made film history with her performance at the 1973 Academy Awards representing Marlon Brando, is dead, the Oscar Academy announced on Sunday evening.
The 75-year-old died on Sunday at her home in Marin County, Northern California, several US media reported, citing the family. The cause was breast cancer, the Washington Post quoted niece Calina Lawrence as saying.
At the awards ceremony in March 1973, actor Marlon Brando, who was to receive an Oscar for best actor in The Godfather, had sent the then 26-year-old on stage to deliver a message on his behalf and to decline the award. It stated that prizes should not be accepted in this country until the living conditions of the indigenous people had drastically improved. Littlefeather left the stage to boos. After that, she repeatedly experienced hostilities.
In August of this year, the Oscar Academy apologized for the reactions to Littlefeather's performance after almost 50 years. The letter, signed by Academy President David Rubin, said she had endured "unfounded and unjustified" abuse and had not received recognition for her courage for too long.
Marie Louise Cruz was born in California. She changed her name as a young woman as she explored her indigenous roots and became an activist, NPR reported. According to the Washington Post, Littlefeather worked, among other things, as a model and at a radio station in San Francisco. She also appeared in commercials. Brando met her through her neighbor at the time, Francis Ford Coppola, who directed The Godfather. dpa