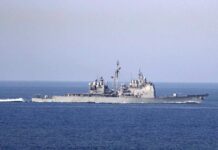 The situation between Taiwan and China remains tense. Now the US is sending warships through the Taiwan Strait again for the first time.
WASHINGTON – Tensions around Taiwan continue. For the first time since days of controversial Chinese military maneuvers in the waters around Taiwan, two US warships crossed the Taiwan Strait on Sunday (August 28). This "underlines the commitment of the United States to a free and open Indo-Pacific," according to the US Navy.
The ships were two guided missile cruisers of the US Seventh Fleet. The fleet is based in Japan and forms the core of Washington's naval presence in the Pacific. The US and its western allies have recently increased naval transit through the Taiwan Strait and the South China Sea to reaffirm their status as international waterways, to the chagrin of Beijing, which views the island as a breakaway territory it wants to reunite with the mainland .
US warships in Taiwan Strait: Taiwan confirms passage of warships
The "routine" passage of the ships had taken place through waters "in which the freedom of navigation and overflight on the high seas in accordance with international law" applies. "These ships were transiting a corridor in the straits outside the territorial waters of coastal states," the US Navy said.
The Ministry of Defense in Taiwan confirmed the passage of the warships. "During their southbound crossing of the Taiwan Strait, the military is monitoring all relevant movements in the sea and airspace surrounding us, and the situation is normal," the ministry said. China, on the other hand, warned the US Navy.
Taiwan: Beijing warns US Navy – they are pursuing US warships
The Chinese People's Liberation Army (PLA) is following the US ships throughout their voyage and is "aware of all movements," a spokesman said. The Chinese troops remain "on the highest alert" and are "prepared at all times to thwart any provocation".
The tense situation between Beijing and Taipei as well as between Beijing and Washington had escalated further in early August following a visit to Taiwan by US politician Nancy Pelosi. After the visit, China's army conducted its largest-ever military maneuvers in the waters around the island, including firing missiles. Taiwan also held drills and unveiled new fighter jets. (afp/tt)