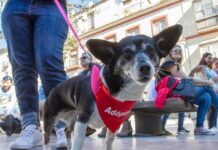 When a small dog urinates on the street in Murcia, a local resident freaks out and kicks the animal to death. The outrage is great. How the residents of the community reacted is described in this article:
MURCIA – The case of a violently killed dog in Murcia, in southeastern Spain, is causing a stir. In a community in upstate Murcia, a man loses his nerve when a dog urinates near his home and kicks him. He breaks the dog's spine and now has to answer for animal abuse in Murcia, as reported by costanachrichten.com.
The villagers resent the man's act of violence and clearly express their protest. After the crime, he was taken away by the Guardia Civil for security reasons and even after his release he did not dare to return to his house until the trial.