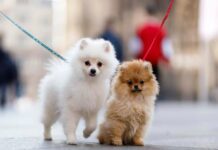 For many dog owners, there is nothing better than going out into nature. In Iran, this will soon be illegal – because of "public security".
Tehran – Let your soul dangle with the dog on a walk: For many dog owners, this is one of the highlights of the day. But in Iran, there are soon serious consequences. Because there the walk in the countryside will probably soon be illegal.
"Walking dogs in parks is illegal and a crime, and citizens will soon be able to report violations to the police," said Tehran's police chief Hussein Rahimi, according to the German Press Agency (dpa). According to Rahimi, legal action would then be taken against the dog owners. Disturbance by dogs in residential buildings should also be reported immediately to the police call 110, according to the police chief, according to the Khabar-Online news portal.
Walking the dog: Illegal in Iran because of "public safety".
It has been officially forbidden in Iran for the past month to bring dogs into parks and green areas. The authorities want to create "more public security". So far, however, dog owners have not complied with the ban because both they and Iranian animal rights activists consider the measures excessive.
Anyone who owns a pet such as a dog or cat in Germany will have to dig deeper into their pockets at the vet's from October – for the first time in more than 20 years. All changes at a glance.
Pets are frowned upon by some sections of society in Shia Iran, particularly the strictly religious. Dogs are also considered unclean in Islam. Nevertheless, the pet trend has increased in recent years, especially in the wake of the corona pandemic. Accordingly, there have been more and more veterinary clinics and pet shops in recent years. (slo/dpa)