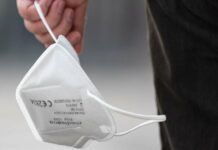 With Omikron BJ.1, a new Corona variant has once again been discovered. What does their appearance mean for the Corona autumn in Germany?
Berlin – Since the beginning of the corona pandemic, new variants, subtypes and mutations of the virus have been discovered again and again. It is even in the nature of the coronavirus to constantly evolve and, if necessary, to adapt to new circumstances. This is the only way to ensure your continued existence. The latest discovery by researchers is called Omicron BJ.1 and represents a subline, i.e. a mutation, of Omicron BA.2.
What is generally known about Omikron BJ.1, where it has already appeared and what its characteristics are, you can read here.
Omikron BJ.1 is the name of the new sub-line, which research and science are currently busy with. Of course, the Omikron BA.5, which is still the dominant variant in Germany, should not be ignored either. It is responsible for a large number of new infections and also represents a challenge that should not be underestimated in view of the Corona autumn. That is why preventive Corona rules have already been decided for the autumn in order to keep the risk as low as possible.