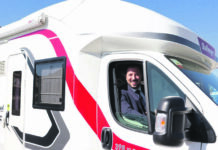 Campers have the opportunity to refuel and dispose of dirty water in Lorca in the south-east of Spain. This article explains what else the new parking space has to offer:
Lorca – The city of Lorca in southeastern Spain has opened a new camper pitch. Motorhome drivers can not only refuel and dispose of dirty water on the parking space in Lorca, as reported by costanachrichten.com.
The facility, which currently has ten pitches, is just a few minutes' walk from the old town of Lorca. Lorca Town Hall is hoping for more campers to visit the city and points out that the pitch should not be confused with a camouflage pitch.