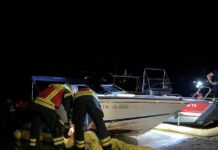 According to the police, the boatman was said to have been drunk when the sports boat crashed into a wall on Thursday evening. A woman lost her life in the accident.
Rheinfelden – A 33-year-old woman from Germany died in a boat accident on the Rhine. As the Swiss police reported on Friday, the sports boat crashed into a wall near Rheinfelden the night before.
The four inmates, who all lived in Germany, fell into the water, it said. The fire brigades of the Swiss border town of Rheinfelden and the neighboring town of Rheinfelden in Baden-Württemberg searched for the victims with other rescue units in the dark. The 33-year-old was no longer responsive when she was rescued and could not be revived.
The 37-year-old boatman was drunk, the police reported. An 18-year-old and a 19-year-old were also rescued from the water. The three survivors suffered minor to moderate injuries and were taken to a hospital. The boat was registered and launched in Germany. The police did not provide any information on the whereabouts of the victims of the accident. dpa