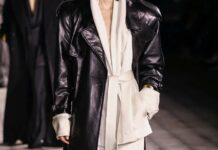 Saint Laurent presented the new collection under the eyes of many stars. Models covered in lots of fabric walked across the Place de Varsovie, which served as the show's location.
Paris – On the Place de Varsovie, the Saint Laurent show caused a stir on the second day of Paris Fashion Week. The presentation of the spring/summer 2023 collection took place outdoors on Tuesday evening, attracting hundreds of onlookers eager to catch a glimpse of Kate Moss, Carla Bruni or Amber Valletta.
The stars were extensively photographed by the photographers in front of the Trocadero fountain, while the Eiffel Tower glittered majestically in the background. The show opened with a khaki-colored leather coat with strong shoulders, which was so long that it touched the ground despite high heels.
Inspired by Martha Graham's iconic play "Lamentation"
Creative director Anthony Vaccarello is usually known for his revealing looks, but this time he literally covered his models from head to toe. This new silhouette was inspired by Martha Graham's iconic 1930's Lamentation, in which the choreographer is encased in a tubular fabric from which she appears to wriggle.
Ankle-length, skin-tight dresses made of transparent silk jersey knit, which had wide waterfall collars and were worn over the head like hoods, were also reminiscent of the famous Capuche dresses by Yves Saint Laurent from the 80s. This time only the feet remained bare. They were in fine strappy sandals with high stiletto heels and formed a nice contrast to the monumental, masculine coats. dpa